Hawkeye Fan Shop — A Black & Gold Store | Hawk Talk Monthly — March | 24 Hawkeyes to Watch | I-Club Events Page | 2019 Football Tickets
By DARREN MILLER
hawkeyesports.com
IOWA CITY, Iowa — Miguel Recinos closed the 2018 regular season for the University of Iowa football team by making a 41-yard field goal as time expired to defeat Nebraska, 31-28.
 
"Two years prior to that, I doubt he could have done that," Iowa head coach Kirk Ferentz said at a news conference Tuesday in the Stew and LeNore Hansen Football Performance Center.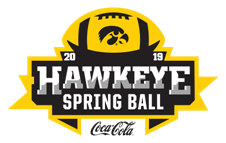 A little more than a month later, wide receiver Nick Easley was named MVP of the Outback Bowl after hauling in eight catches for 104 yards and two touchdowns during Iowa's 27-22 win over No. 18 Mississippi State. On defense for the Hawkeyes, Jake Gervase made six tackles, broke up three passes, and had an interception with a 28-yard return.
 
"Those are two guys who were walk-ons and weren't starters two years ago at this time," reminded Ferentz. "Those are examples of the growth and development you hope to see with players. They were great stories and hopefully we'll have more of them coming as we move along."
 
Who will be that next "story" for the Hawkeyes? Who will be the next student-athlete elevating his play to leave a mark on the program?
 
"That's what motivates us, to see who is going to be stepping up and taking advantage of that opportunity," Ferentz said.
 
The anticipation, excitement, and yes, the trepidation of the unknown, begins Wednesday as Iowa conducts the first of 15 spring drills.
 
"That's what makes it interesting," Ferentz said.
 
Iowa finished 9-4 last season and returns 42 lettermen. The Hawkeyes have 12 starters coming back — six on offense, four on defense, and two on special teams.
 
"The key for us over the next five weeks is to realize every opportunity we have, whether it is a meeting or a practice, is important, otherwise we wouldn't schedule it," Ferentz said. "The challenge for us is to maximize those opportunities so we're a much better-looking team by the end of April."
 
In personnel news, Kelvin Bell has been named defensive line coach, replacing Reese Morgan, who retired March 6. Bell played football at Iowa and for the past six years served on Ferentz's staff, most recently as assistant defensive line coach and recruiting coordinator.
 
"Moving forward, (Bell) is just going to be the defensive line coach and we will re-distribute recruiting responsibilities," Ferentz said. "He is a former player who has a good, unique perspective of our program from his angle. This allows us to keep continuity in the staff."
 
Ferentz said he will take his time searching for a 10th assistant coach.
 
"There is no need to rush out and do something right now," he said.
 
Hours before Ferentz met with media, it was announced that the turf inside Kinnick Stadium will be replaced as soon as weather cooperates, meaning there will be no open practice in the spring this season.
 
"We plan to have at least one open practice each spring, so we will continue that," Ferentz said.
 
Iowa's final practice will be April 26. If interested in purchasing tickets for the 2019 season, click HERE.