Hawkeye Fan Shop — A Black & Gold Store | Fight For Iowa | Photo Gallery | Iowa Purdue Box
IOWA CITY, Iowa — The University of Iowa women's tennis team picked up its first Big Ten win of the season Friday, defeating Purdue, 4-1, at the Hawkeye Tennis and Recreation Complex. The Hawkeyes improve to 9-8 on the season.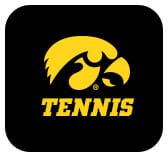 Iowa started strong and picked up a hard fought doubles point.
The freshman duo of Sophie Clark and Cloe Ruette picked up a win in their doubles match against Seira Shimizu and Zala Dovnik, 6-1. Elise van Heuvelen Treadwell and Ashleigh Jacobs fell to Silvia Ambrosi and Amina Mukhametshina, 6-4.
At No. 2 doubles, Samantha Mannix and Danielle Bauers went the distance in their point clinching win over Caitlin Calkins and Ena Babic, 7-6 (7-1).
Singles action was just as competitive for the Hawkeyes, dropping the first set in five of their six singles matches.
Van Heuvelen Treadwell fell in her No. 1 singles match to Silvia Ambrosio, 6-3, 6-3. Michelle Bacalla took the lead back for Iowa in her singles victory over Alex Sabe, 6-3, 6-3, at the No. 5 position.
Samantha Mannix battled back from a first set loss, 6-1, to defeat Ena Babic, 1-6, 7-5, 6-0, at No. 2.
Sophie Clark sealed the victory for Iowa in her three-set win over Purdue's Caitlin Calkins, 2-6, 6-2, 6-4, at the No. 4 position. Ashleigh Jacobs and Danielle Burcih's singles matches went unfinished.
QUOTING SASHA SCHMID
"We've needed to fight through some tough situations in these recent matches. We've had a difficult stretch where we played some really good teams and just were not been able to rise to the occasion in critical moments of the match. There's a moment where we have to dig in and work and that's what I've been talking to this team about needing to do. You're not going to get a win like this unless you go through things and moments that are hard. I think we fought hard tonight and they were rewarded with a win."
UP NEXT
The Hawkeyes return to action at home Sunday hosting Indiana at 11 a.m. (CT) at the Hawkeye Tennis and Recreation Complex. 
 
Iowa 4, Purdue 1
Doubles
1. Silvia Ambrosio/ Amina Mukhametshina (PUR) def. Elise van Heuvelen Treadwell/ Ashleigh Jacobs (IOWA), 6-4
2. Samantha Mannix/Danielle Bauers (IOWA) def. Caitlin Calkins/Ena Babic (PUR), 7-6 (1).
3. Sophie Clark/Cloe Ruette (IOWA) def. Seira Shimizu/Zala Dovnik (PUR), 6-1
Singles
1. Silvia Ambrosio (PUR) def. Elise van Heuvelen Treadwell (IOWA), 6-3, 6-3
2. Samantha Mannix (IOWA) def. Ena Babic (PUR), 1-6, 7-5, 6-0
3. Ashleigh Jacobs (IOWA) vs. Seira Shimizu (PUR), 6-7, 6-4 (DNF)
4. Sophie Clark (IOWA) def. Amina Mukhametshina (PUR), 2-6, 6-2, 6-4
5. Michelle Bacalla (IOWA) def Caitlin Calkins (PUR), 6-3, 6-3
6. Danielle Burich (IOWA) vs. Zala Dovnik (PUR),6-7, 6-3, 1-0 (DNF)
Match Notes:
Iowa: 9-8
Purdue: 5-11
Order of finish: Doubles (3,1,2); Singles (1,5,2,4)