Hawkeye Fan Shop — A Black & Gold Store | Fight For Iowa | Photo Gallery
IOWA CITY, Iowa – The University of Iowa women's tennis team picked up its second consecutive Big Ten home win, defeating Indiana, 4-3, on Sunday at the Hawkeye Tennis and Recreation Complex.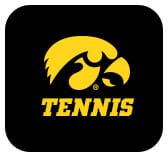 The Hoosiers grabbed the doubles point to start of the match with wins on courts No. 1 and No. 2.  
In singles, the Hawkeyes came out on fire with wins in their first two matches.
Sophomore Ashleigh Jacobs grabbed Iowa's first win of the day by defeating Caitlin Bernard, 6-2, 6-1, at the No. 3 position.
Elise van Heuvelen followed with a win of her own over Madison Appel, 6-2, 6-1, at No. 1. Van Heuvelen Treadwell leads the team with 10 singles victories.
Danielle Burich made it three in a row for Iowa in her No. 6 singles win over Somer Henry, 6-3, 6-4. Sophie Clark was dropped by Jelly Bozovic, 7-5, 6-4.
With the score tied 3-2, Iowa had both Samantha Mannix and Michelle Bacalla left playing their third sets with a chance to clinch the match. In a back and forth match, Samantha Mannix was dropped by Natalie Whalen, 4-6, 6-3, 6-4.
Michelle Bacalla came up clutch for Iowa and completed a three-set comeback victory over Michelle McKamey. After dropping the first set, 6-0, Bacalla grabbed the the second set, 7-5, and went on to win the match, 0-6, 7-5, 6-3, at the No. 5 position.
"I really thought about previous matches where I was in similar  situations," Bacalla said. "I knew this was my time to really go after it and leave everything on the court. I felt confident and will do anything for this team."
QUOTING SASHA SCHMID
"We're not always going to sweep singles play and other people have to step up. We've learned a lot and this match shows us how much we've grown despite some of the really tough losses that we took in the middle part of the season. I felt like those losses and that period would be validated if we could've grown and have that growth show now as we end Big Ten play."
UP NEXT
The Hawkeyes return to action at home Friday hosting Rutgers at 2 p.m. (CT) at the Hawkeye Tennis and Recreation Complex. 
 
Iowa 4, Indiana 3
March 31, 2019 | Iowa City, Iowa | 11:00 a.m. (CT)| Hawkeye Tennis and Recreation Complex
Doubles
1. Madison Appel/Jelly Bozovic (IND) def. Elise van Heuvelen Treadwell/Ashleigh Jacobs (IOWA), 7-5
2. Caitlin Bernard/Natalie Whalen (IND) def. Samantha Mannix/Danielle Bauers (IOWA), 6-2
3. Sophie Clark/ Cloe Ruette (IOWA) def. Michelle McKamey/ Somer Henry (IND), 6-3
Singles
1. Elise van Heuvelen Treadwell (IOWA) def. Madison Appel (IND), 6-2, 6-1
2. Natalie Whalen (IND) def. Samantha Mannix (IOWA), 4-6, 6-3, 6-4
3. Ashleigh Jacobs (IOWA) def. Caitlin Bernard (IND), 6-2, 6-1
4. Jelly Bozovic (IND) def. Sophie Clark (IOWA), 7-5, 6-4
5. Michelle Bacalla (IOWA) def. Michelle McKamey (IND), 0-6, 7-5, 6-3
6. Danielle Burich (IOWA) def. Somer Henry (IND), 6-3, 6-4
Match Notes:
Iowa: 10-8
Indiana:13-8
Order of finish: Doubles (2,3,1); Singles (3,1,6,4,2,5)