Hawkeye Fan Shop — A Black & Gold Store | 24 Hawkeyes to Watch 2018-19 | VIDEO: Seth Wallace | VIDEO: Kelvin Bell | Hawk Talk Monthly — March
By STEVE ROE
hawkeyesports.com
IOWA CITY, Iowa – The University of Iowa football team is four practices sessions into 2019 spring practice, and defensive coaches Kelvin Bell and Seth Wallace like the possibilities for the Hawkeye defense. Maybe not just yet, but in the fall when the season opens against Miami, Ohio. Bell and Wallace met with the media Tuesday at the Stew and LeNore Hansen Football Performance Center.
Bell, in his first spring as the defensive line coach following the retirement of Reese Morgan, becoming the third former Hawkeye players to fill a full-time assistant coaching position (Brian Ferentz, LeVar Woods). Bell likes his guys up front, but knows they have to have a quick learning curve and develop a number of younger players to be ready to see action in September.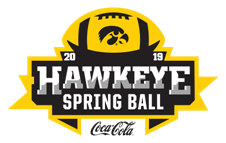 The Hawkeyes had the luxury of playing as many as eight linemen on a regular basis a year ago. With four of those players gone and four returning, more depth must be found among the younger guys. Anthony Nelson, Matt Nelson and Parker Hesse were starters for three seasons, while Sam Brincks came on last spring and started all 13 games in 2018. Their experience, and talent, will be missed.
The good news is that A.J. Epenesa and Chauncey Golston at the end positions, along with tackled Cedrick Lattimore and Brady Reiff, all saw extensive action. Epenesa earned first-team All-Big Ten honors without starting a game. He led the Big Ten and ranked ninth in the nation with 10.5 sacks.
Golston led the team with three fumble recoveries (all caused by Epenesa), while collecting nine tackles for loss and 3.5 sacks while seeing action at end and tackle. Lattimore and Reiff played a key role in the overall depth of the defensive front.
Behind those four, there is no experience. Bell talked about the upside of the guys listed on the depth chart, in redshirt freshmen John Waggoner and Noah Shannon, and junior Austin Schulte. Sophomore Daviyon Nixon is back with the defensive front as well.
Both Bell and Wallace talked about one key position change, as senior Amani Jones is getting reps at defensive end after spending all of his previous time as a Hawkeye linebacker. The coaches, and Jones' teammates, like what they have seen so far, and the flexibility Jones brings to the position.
"Amani gives our defense a different look, a 3-4 look maybe," said Bell. "He's going to have to adjust from linebacker. Things happen quicker up front, closer to the ball. His energy level is good for the room and he wants to be good. He is soaking things up like a sponge.
"I don't think of him as a defensive end, I think of him as an edge defender. So far, so good. He knows if he wants to be on the field, those reps are earned. He's doing everything I have asked to this point."
Wallace returns experience at the linebacker positions, which is a change from a year ago. But getting the right guys in the right positions will keep Wallace and the linebackers busy during the remaining spring practice sessions.
A key to the defensive will be filling the outside linebacker position played by Amani Hooker over the final nine games a year ago. With Hooker departing for the NFL after his junior season, filling that spot is a key to Iowa's defense. A combination of linebackers and defensive backs will have that opportunity.
Wallace laughed with the media in regards to the name of the position first, then described it.
"In a normal defense, regular down and distance, its called the "cash" position," said Wallace. "In our nickle package, third and long, that type of thing, it is the "star" position. Either way, Wallace says the Hawkeyes have solid options.
"We have guys who can fill that role," said Wallace, of the combination linebacker and defensive back position. "They will look different than Amani Hooker. They won't have the same experience level that Amani did in adapting to that position."
Senior Kristian Welch, junior Nick Niemann and sophomore Djimon Colbert all saw considerable action last season and started numerous games. But 2018 senior Jack Hockaday started most of the season at middle linebacker, and that experience must be replaced. The three veterans mentioned above will have the first opportunity, ahead of some younger players, to fill the middle and weak side linebacker positions.
Iowa's spring practice will continue through Friday, April 26.
Requests for 2019 Iowa football season tickets can be submitted HERE or by calling 1-800-IAHAWKS.