Hawkeye Fan Shop — A Black & Gold Store | Fight For Iowa | Photo Gallery
IOWA CITY, Iowa – The University of Iowa women's tennis team picked up its third straight conference win Friday, defeating Rutgers, 6-1, at the Hawkeye Tennis and Recreation Complex.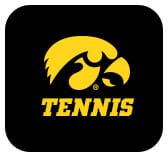 The Hawkeyes grabbed the doubles point to start off the match.
Samantha Mannix and Danielle Bauers won in the No. 2 singles match, 6-4. Elise van Heuvelen Treadwell and Ashleigh Jacobs followed with a win of their own, 6-3, at No.1 doubles. Sophie Clark and Cloe Ruette fell, 6-3, in their No.3 doubles match.
Iowa brought their strong doubles' performance to the start of singles action as each Hawkeye picked up a first-set win.
Ashleigh Jacobs got the ball rolling for Iowa in her straight-set win over Kat Muzik, 6-0, 6-3, at No. 3.
 
"I've just been coming out with a lot of confidence and seeing everyone else doing the same thing gives me a lot of energy," Jacobs said. "I was able to carry that through the whole match."
Elise van Heuvelen followed Jacobs with a straight-set win of her own over Maya Jacobs, 6-1, 6-3, at No. 1 position.
Samantha Mannix clinched the win for Iowa in her victory over Tess Fisher, 6-1, 6-4, at the No. 2 singles position.
Freshman Michelle Bacalla got the win at No. 5 singles over Jaci Cohcrane, 6-3, 6-2. Danille Burich went the distance in her No. 6 singles win over Isabelle Da Silva, 6-4, 4-6, 1-0 (3). Sophie Clark fell in her No. 4 singles match to Sydney Kaplan, 3-6, 7-6, 1-0 (6).
QUOTING SASHA SCHMID
"We didn't close it out in doubles immediately and sometimes that can come back to bite you. We got through it today but we have to continue to learn about that situation and how to handle it. Those are things that this team is continuing to work through. They're playing well enough to get themselves in position to close things out and we just have to keep working through that."
UP NEXT
The Hawkeyes return to action Sunday hosting Maryland at 11 a.m. (CT) at the Hawkeye Tennis and Recreation Complex. 
 
Iowa 6, Rutgers 1
April 5, 2019 | Iowa City, Iowa | 2:00 p.m. (CT)| Hawkeye Tennis and Recreation Complex
Doubles
1. Elise van Heuvelen Treadwell/Ashleigh Jacobs (IOWA) def. Maya Jacobs/Kat Muzik (RUT), 6-3
2. Samantha Mannix/ Danielle Bauers (IOWA) def. Jaci Cochrane/Kristiana Zahare (RUT), 6-4
3. Sydney Kaplan/Tess Fisher (RUT) def. Sophie Clark/Cloe Ruette (IOWA), 6-3
Singles
Elise van Heuvelen Treadwell (IOWA) def. Maya Jacobs (RUT), 6-1, 6-3
Samantha Mannix (IOWA) def. Tess Fisher (RUT), 6-1, 6-4
Ashleigh Jacobs (IOWA) def. Kat Muzik (RUT), 6-0, 6-3
Sydney Kaplan (RUT) def. Sophie Clark (IOWA) vs. , 3-6, 7-6, 1-0 (6)
Michelle Bacalla (IOWA) def. Jaci Cocharane (RUT), 6-3, 6-2
Danielle Burich (IOWA) vs. Isabelle Da Silva (RUT), 6-4, 4-6, 1-0 (3)
Match Notes:
Iowa: 11-8
Rutgers: 8-8
Order of finish: Doubles (3,2,1); Singles (1,3,2,5,6,4)