Hawkeye Fan Shop — A Black & Gold Store | 24 Hawkeyes to Watch 2018-19 | Minnesota Wisconsin Notes
THIS WEEK
The 13th-ranked University of Iowa women's rowing team will host their lone home event of the season this weekend on Lake MacBride. The Hawkeyes will host No. 11 Wisconsin, No. 20 Minnesota, and No. 19 Indiana. This is the first time Iowa has raced at home since April 2016.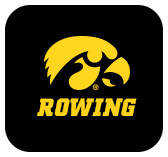 FOLLOW ALONG
Liveresults will be posted on Twitter @Iowarowing following each event. A livestream will be available at hawkeyesports.com. 
PARKING
Parking directions will be available within range of the race location. Follow the directions below to the race venue.
From I-80, take Coralville Exit 242 North onto First Avenue. Continue right at the roundabout and follow First Avenue (becomes North Liberty Road) for 3.4 miles. Turn left on Dubuque Street to North Liberty, IA (1.6 miles). Then turn right on North Front Street. North Front Street becomes Mehaffey Bridge Road; continue for 4.8 miles. Immediately after the causeway, turn left on Cottage Reserve Road and follow signs to the right to the boat ramp for 0.7 miles. Parking directions will then be visible. 
SCHEDULE OF EVENTS
Friday, April 12, 2019
1:00 p.m. Course available to teams for practice
6:00 p.m. Course closed
6:00 p.m. Pre-competition meeting
Saturday, April 13, 2019
7:30 a.m. Course available to teams for warm-ups
Morning Session            Afternoon Session
8:30 a.m. 2 Novice 8        1:00 p.m. 2 Novice 8        
8:45 a.m. 3 Varsity 4        1:15 p.m. 3 Varsity 4
9:00 a.m. Novice 8            1:30 p.m. Novice 8
9:15 a.m. Novice 8            1:45 p.m. Novice 8
9:30 a.m. 2 Varsity 4        2:00 p.m. 2 Varsity 4
9:45 a.m. 2 Varsity 4        2:15 p.m. 2 Varsity 4
10:00 a.m. Varsity 4            2:30 p.m. Varsity 4
10:15 a.m. Varsity 4            2:45 p.m. Varsity 4
10:30 a.m. 2 Varsity 8        3:00 p.m. 2 Varsity 8
10:45 a.m. 2 Varsity 8        3:15 p.m. 2 Varsity 8
11:00 a.m. Varsity 8            3:30 p.m. Varsity 8
11:15 a.m. Varsity 8            3:45 p.m. Varsity 8
BACK HOME
The last time the Hawkeyes competed at home was the spring of 2016. The team faced 12th-ranked Wisconsin and Minnesota for a doubleheader, earning a victory over the Gophers, but falling to the Badgers. The Hawkeyes, Badgers, Gophers, and Hoosiers return to Lake MacBride after three years for the B1G Double Dual. 
Nine seniors return for the upcoming matchup on their home turf. Faith Weiland, Rachel Valentine, Andjela Milenkovic, Rachel Canon, Logan Jones, Carly Millerd, Allison Blevins, Paige Schlapkohl, and Elizabeth Pritchard are the only athletes on the current roster who have ever competed with home advantage. These distinguished leaders can help guide their boats to victory on Saturday. 
The last home outing provided close racing in nearly every boat. The Hawkeyes emerged ahead of or fell behind by as little as 2.9 seconds in their 2016 meetings to clinch wins. This time around, Iowa will have more on their plate when dealing with higher ranked Badger and Gopher squads. 
LAST TIME OUT
The Hawkeyes faced then 11th-ranked USC, top-ranked Cal, and 3rd-ranked Stanford at the PAC-12 Invitational in Redwood Shores, California last weekend, earning a 1V8 upset victory over USC.
RECAP: I VARSITY EIGHT – The crew got out in front of the No. 11 USC in the early stages, inevitably finishing 9.5 seconds in front of the Trojans.  
The crew lined up against No. 3 Stanford in the afternoon matchup, falling behind the Cardinals in the middle section of the course and handing the Hawkeyes their first loss of the season. 
On Sunday, Iowa sprinted off the start line quickly against the Cal, leading for much of the first 500m of the course.  The defending NCAA Champions led by the 1000m mark, establishing a one-boat-length lead and never faltering in the second half. The Hawkeyes posted their weekend-best time of 6:25.5.
RECAP: II VARSITY EIGHT – The II Varsity Eight crew got out early on No. 11 USC and led at the half-way point, but fell behind the Trojans at the 1,500-meter mark, crossing the line 4.8 seconds up on the Hawkeyes.  
Iowa fell to No. 3 Stanford, who maintained a strong lead throughout the race. The II Varsity Eight struggled to find their rhythm against Cal on Sunday, ultimately losing the Golden Bears for their final race of the weekend.
 
RECAP: I VARSITY FOUR – The I Varsity Four boat was the last event contested in both the morning and afternoon sessions of the invitational.  Iowa fell to USC, Stanford, and Cal. The crew could not hold on against their quick and well-experienced opponents.
ROSTER BREAKDOWN
The 2018-19 roster is composed of athletes from eight different states and five different countries. Iowa leads the roster with 20 athletes from the home state, followed by border neighbors Illinois (6) and Minnesota (3). 
Newcomers holding a promising future for the program include 19 freshmen on the 2018-19 squad. The team retained nine sophomores, eight juniors, and has 10 seniors returning for their final season. In addition, the roster includes one athlete on their fifth year of eligibility. 
The roster also includes several international athletes from Canada, Netherlands, Serbia, and England.