Hawkeye Fan Shop — A Black & Gold Store | Fight For Iowa | Nebraska Game Notes
 THIS WEEK FOR THE HAWKEYES
The University of Iowa women's tennis team stays home to face off against Nebraska on Saturday at the Hawkeye Tennis and Recreation Complex. The match is set to start at 12 p.m. (CT).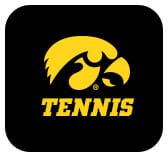 @SASHASCHMID ON LAST HOME MATCH
"We have a lot of excitement within our team about this weekend. It's Senior Day and we're excited and happy to honor Dori on Friday at our banquet and on Sunday at the match. The team can't wait to get back to playing at home again for one final time this season. Nebraska will be another tough test for us and it's another great opportunity for our team to work hard and compete."
 
TAKING ON THE HUSKERS
Saturday's match is the 28th all-time meeting between the Hawkeyes and the Huskers. Iowa leads the series, 18-9, but fell in last year's matchup, 4-0. Iowa's last win over Nebraska came in 2017, 4-3.
 
HAWKEYES LOOK TO MAKE IT FIVE IN A ROW
The Hawkeyes look to extend their four-game Big Ten win-streak on Saturday against Nebraska. The last time Iowa won five straight conference matches was in 2005. With a win, Iowa would reach five conference victories for the second time in three years. The last time Iowa reached five Big Ten wins in a season was 2010 (6). 
After adding wins over Rutgers and Maryland, the Hawkeyes jumped four spots in the conference rankings, moving into sixth. 
BECOME A FAN
Fans can follow the Iowa women's tennis team at facebook.com and via twitter @Iowa_Tennis. Live results from this weekend are available on the Iowa women's tennis schedule page at hawkeyesports.com.
 
FOLLOW THE HAWKEYES
 Links to live results and a live video stream will be available on the women's tennis schedule page at hawkeyesports.com/playsight.