24 Hawkeyes to Watch 2018-19 | Hawkeye Fan Shop — A Black & Gold Store | Photo Gallery
IOWA CITY, Iowa – Due to severe weather, the University of Iowa women's rowing team's races against 6th-ranked Brown and 14th-ranked Harvard have been canceled.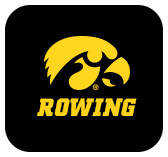 With high winds and thunderstorms in the forecast on the Seekonk River in Providence, R.I., the coaches have called all three days of competition and the Hawkeyes will refrain from travel.
The Hawkeyes are coming off their first home event in three years with the Big Ten Double Dual at Lake MacBride. The first varsity eight boat (1V8) earned Big Ten Boat of the Week honors for its performances during the event, defeating No. 11 Wisconsin and Minnesota.
Iowa will return to competition on April 27 in Austin, Texas for the Longhorn Invitational.