Hawkeye Fan Shop — A Black & Gold Store | Hawk Talk Monthly — April | 24 Hawkeyes to Watch | Photo Gallery (Thursday Practice) | 2019 Football Tickets | I-Club Events Page
By RICK BROWN
hawkeyesports.com
 
IOWA CITY, Iowa — Nate Stanley is a proven commodity on the University of Iowa football team.
 
He has started every game at quarterback the past two seasons and has thrown for 5,351 career yards. He has thrown 52 touchdown passes as a starter, the most ever for a Hawkeye quarterback in back-to-back seasons.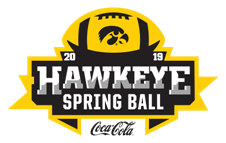 As Stanley heads into his senior campaign, the bigger question is whom he will be throwing the ball to.
 
Thirty-six of those 52 touchdown passes were to tight ends Noah Fant and T.J. Hockenson or slot receiver  Nick Easley. All three were 1,000-yard receivers over the past two seasons.  And all three are gone.
 
So it's up to experienced wide receivers like Brandon Smith and Ihmir Smith-Marsette and some new but exciting prospects to fill the void.
 
Two names to keep an eye on are freshmen Tyrone Tracy, Jr., and Niko Ragaini. They have stepped up and made a play for Easley's starting spot over the 10 spring practices completed so far.
 
Finding Stanley's backup at quarterback has also been an emphasis during the spring.
 
Spencer Petras and Peyton Mansell are the leading candidates, with Alex Padilla also getting reps this spring.
 
"We're making some good progress," quarterbacks coach Ken O'Keefe said Tuesday. "Obviously Nate has a decided advantage as far as experience is concerned. He knows the system inside-and-out. He knows how to make checks and his decisions are good. Spencer and Peyton are battling it out for reps in the second spot at this point."
 
O'Keefe said it could go to the end of fall camp before the coaches pick the backup signal caller.
 
Stanley's experience under fire will be a strength of the 2019 team.
 
"The thing Nate is able to do is he can change plays and get himself out of trouble," O'Keefe said. "He can fix more stuff."
 
O'Keefe pointed out several examples in the 27-22 victory against Mississippi State in the Outback Bowl.
 
Stanley made adjustments on three significant plays. Two of them were second-quarter touchdown passes of 75 yards to Easley and 15 to Smith-Marsette.
 
"Ihmir broke his route outside when he got walled off from where he wanted to go," O'Keefe said. "He didn't fool Nate. (Stanley) was able to reset and push the ball out to where no one else could get it and it resulted in a touchdown."
 
The other big play came in the third quarter with Iowa trailing, 19-17. Facing a fourth-and-one play from the Mississippi State 11, Stanley used his saavy to scramble for 3 yards. He threw a go-head touchdown pass to Easley on the next play.
 
"The whole thing broke down on the front side," O'Keefe said of the called play-action pass. "He just scooted out the back end and got the first down."
 
Iowa fans might not be familiar with Tracy, Jr., and Ragaini, but wide receivers coach Kelton Copeland didn't mince words when he talked about them on Tuesday. That's an important spot in the offense. Easley led the Hawkeyes in receiving yards each of the past two seasons.
 
"Tyrone Tracy, he's phenomenal," Copeland said. "I don't use that word a lot. He hasn't done it on the field yet, when it counts."
 
Copeland also talked of Tracy's "magnetic ability" when he evaluated him at Decatur Central High School in Camby, Indiana.
 
"This kid wants to be great," Copeland said.
 
Ragaini comes from East Haven, Conn.
 
"He's a complete football player," Copeland said. "I hesitate to use those terms with a young guy, but he has a complete skill set. He has exceptional ball skills. He has confident hands. He's not a blazer as far as top-end speed goes, but he's fast, and he plays fast."
 
Smith and Smith-Marsette both had 361 receiving yards last season. Smith had 28 catches, Smith-Marsette 23. They combined for five touchdowns.
 
Smith's impact on the program has been a steady climb. Smith-Marsette was quicker to make a name for himself.
 
"He hasn't exceled quite as much as I'd hoped up to this point of the spring," Copeland said of Smith-Marsette, who also had 707 kick-return yards last season. "The good news is there are still five (spring practice) opportunities. Up to this point he has been kind of stop and go. We haven't seen the true development as we have with some of the guys."
 
Iowa's spring practice continues through April 26. Requests for 2019 Iowa football season tickets can be submitted HERE or by calling 1-800-IAHAWKS.