Hawkeye Fan Shop — A Black & Gold Store | Hawk Talk Monthly — April | 24 Hawkeyes to Watch | I-Club Events Page | Photo Gallery | 2019 Football Tickets
By DARREN MILLER
hawkeyesports.com
IOWA CITY, Iowa — Saturday marked the 12th practice of the spring for the University of Iowa football team and it closed with freshman defensive back Terry Roberts jarring a ball from receiver Nico Ragaini.
 
It wasn't the only big play Roberts turned in on the sunny morning.
 
The 5-foot-10, 176-pounder also blocked a field goal attempt during a special teams segment to go along with several tackles.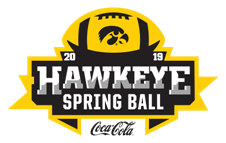 There is a reason Hawkeye fans didn't see Roberts on the field during the nine-win 2018 season. Roberts owns the fact that he wasn't fully versed in the playbook. Then, when he was assigned to the scout team, he admitted, "I was kind of down, so I just came to practice to practice."
 
Those days are over. Hard work in the offseason has elevated Roberts into sharing repetitions at second-team right cornerback as well as time on several special teams.
 
So, who is Terry Roberts?
 
Does the mention of Bob Sanders and Jovon Johnson ring sweet to the ears of Hawkeye fans? Roberts isn't at the Sanders-Johnson level yet, but there is a link. All three are from Erie, Pennsylvania, with Sanders and Roberts attending Cathedral Prep. Roberts is also a personal acquaintance of both, having attended their football camps in Erie since he was 7 years old.
 
"Bob has a legacy here," Roberts said. "He is one of the greatest safeties to play the game. Jovon didn't go to my high school, but he is still from Erie, Pennsylvania, and he is my mentor. He taught me everything I know about defensive back.
 
"I'm taking everything (Sanders and Johnson) taught me and bringing it here so I can make a name for myself."
 
Roberts thinks a reason Iowa defensive coordinator Phil Parker and quarterbacks coach Ken O'Keefe (who recruits the state of Pennsylvania) noticed him was because Sanders and Johnson called the Richard O. Jacobson Football Operations Building and put in a good word.
 
The first season for Roberts was spent growing and learning. He was a scout team regulasr and Roberts vowed that would not happen again.
 
"I am going to make sure I know the playbook, commit no mental errors, and I need to get in the film room so I know what I'm doing in order to get on the field," Roberts said.
 
And that is how he spent the days from January until spring camp opened March 27. Roberts watched film on his iPad, asked questions, and took mental notes by studying veterans like senior Michael Ojemudia and junior Matt Hankins.
 
"There is always room for improvement, so I'm not going to say I have been performing my best (this spring) because I can always be a better player," Roberts said. "I think I have been doing OK, but I have to come out every day, work hard, get in the film room, watch film, fix my mistakes, and keep balling."
 
Roberts added six pounds during his first year on campus and says his biggest improvement has come by focusing on himself. His priorities have been defined, distractions have been reduced, and more of the playbook has been devoured and retained.
 
"A lot of things I know now, I did not know in the summertime or even during the season," Roberts said.
 
That helps explain why he spent Saturday making several key plays. Roberts has begun the process of becoming another Hawkeye student-athlete from Erie, Pennsylvania, to make a name for himself.
 
"I have to keep getting better," Roberts said. "I love it here."
Iowa's spring practice continues through April 26. Requests for 2019 Iowa football season tickets can be submitted HERE or by calling 1-800-IAHAWKS.