Hawkeye Fan Shop — A Black & Gold Store | Fight For Iowa
MADISON, Wisc– The University of Iowa women's tennis team fell to No. 42 Wisconsin on Saturday, 4-2, at the Nielsen Tennis Stadium.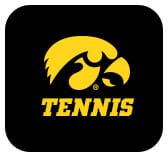 The Hawkeyes started strong and claimed the doubles point, winning at both No. 1 and No. 3. Cloe Ruette and Samantha Mannix picked up a win over Lexi Keberle and Anna Makarova, 6-1. The doubles team of Elise van Heuvelen Treadwell and Sophie Clark claimed the doubles point in their win over MaryAnn Rompf and Ava Markham, 6-2. 
Singles action was very competitive, but the Hawkeyes fell short of victory against the Badgers.
Sophie Clark fell to MaryAnn Rompf, 6-2, 6-1, at No. 5. Elise van Heuvelen Treadwell was defeated by Sara Castellano, 7-5, 7-5, at No.1 singles.  
Danielle Burich picked up Iowa's lone singles win in her No. 6 singles match against Christina Zordani, 6-3, 6-2.
Ashleigh Jacobs was dropped by Lexi Keberle, 6-3, 3-6, 6-4, at the No. 2 position. Michelle Bacalla faced a similar fate to Jacobs, losing in three sets to Ava Markham, 6-3, 2-6, 6-3, at No. 4. 
QUOTING SASHA SCHMID
"I'm very proud of this team and the way we competed and played today. We were not happy with the last match we played and I believe heart and soul of a team is tested when you have to respond to a disappointing loss. We responded well today, even though we came short of four points. We put ourselves in a position to beat a very a good team. This match came down to a couple points. We're looking forward to another great test tomorrow against Minnesota."
UP NEXT
The Hawkeyes return to action tomorrow, Sunday, at Minnesota. The match is scheduled to begin at 10 a.m. (CT).  
Wisconsin 4, Iowa 2
April 20, 2019l | Iowa City, Iowa | 11 a.m. (CT)| Nielsen Tennis Stadium
Singles Competition
 1. Sara Castellano (WIS) def. Elise van Heuvelen Treadwell (IOWA) 7-5, 7-5
2. Lexi Keberle (WIS) def. Ashleigh Jacobs (IOWA) 6-3, 3-6, 6-4
3. Anna Makarova (WIS) vs. Samantha Mannix (IOWA) 5-7, 6-4, 4-5, unfinished
4. Ava Markham (WIS) def. Michelle Bacalla (IOWA) 6-3, 2-6, 6-3
5. MaryAnn Rompf (WIS) def. Sophie Clark (IOWA) 6-2, 6-1
6. Danielle Burich (IOWA) def. Christina Zordani (WIS) 6-3, 6-2
Doubles Competition
1. Cloe Ruette/Samantha Mannix (IOWA) def. Lexi Keberle/Anna Makarova (WIS) 6-1
2.Christina Zordani/Sara Castellano (WIS) vs. Danielle Bauers/Ashleigh Jacobs (IOWA) 3-4, unfinished
3. Elise van Heuvelen Treadwell/Sophie clark (IOWA) def. MaryAnn Rompf/Ava Markham (WIS) 6-2
Match Notes:
Iowa 12-10, 4-6
Wisconsin 16-4, 8-2; National ranking #42
 Order of finish: Doubles (1,3); Singles (5,6,1,4,2)