Hawkeye Fan Shop — A Black & Gold Store | Hawk Talk Monthly — April | 2019 Football Tickets | I-Club Events Page | 24 Hawkeyes to Watch | Phil Parker Transcript
By RICK BROWN
hawkeyesports.com
IOWA CITY, Iowa — Anthony Nelson started all 13 games at right defensive end for the University of Iowa's football team last season. Amani Hooker, the Big Ten's defensive back of the year, started all 13 games at either strong safety or outside linebacker.
 
Both could have been back in 2019, but they elected to enter the NFL Draft that starts Thursday.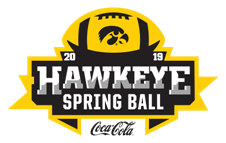 The Hawkeyes must also replace starters in end Parker Hesse and tackle Sam Brincks. Matt Nelson, who played both tackle and end, is also gone. The two Nelsons, Hesse and Brincks totaled 120 career starts.
 
Parker is quick to point out that there's also a void left with the retirement of defensive line coach Reese Morgan.
 
"It's kind of hard going through this without Reese Morgan with us," Parker said. "We lost a good coach, a good person, and Reese would always find a couple of guys in Iowa that would come in here, Jake Gervase, Josey Jewell, those types of guys. We're going to miss him, and I wish him the best in his retirement."
 
The defensive line returns experienced players in ends A.J. Epenesa and Chauncey Golston and tackles Cedrick Lattimore and Brady Reiff. Parker is looking to Epenesa, a first-team all-Big Ten selection last season, Golston and Lattimore to provide leadership to go with their experience.
 
"It's hard to lead if you don't play well or play hard," Parker said. "And I think that's what we're trying to push these guys to do. I see Cedrick Lattimore, he's working harder and now we expect him to lead also."
 
Building depth has been important over the 15 spring practices that wrap up Friday. Parker mentioned players like Daviyon Nixon, Noah Shannon, Austin Schulte and John Waggoner as contenders for a spot in the defensive line rotation that was eight strong in 2018.
 
"We would definitely like to have four ends and four tackles," Parker said. "Right now we're probably leaning more on probably four inside guys and three outside guys. We'd like to play eight to 10 guys to be able to fill a role whether it's 10 plays, 15 plays at a time, if they can go in there and help."
 
Parker said the eight-man approach last season proved invaluable, keeping fresh players to battle in the trenches. It was a big reason why Iowa led the Big Ten in scoring defense.
 
"One thing about the defensive and offensive line, every single play they're beating on each other and it takes a toll on you," Parker said. "I think about how many guys we played last year, it kept us fresh up front and those guys up front are the reason we were so successful, because we had so many of them."
 
Redshirt freshman D.J. Johnson has emerged as a contender at the "cash" position Hooker excelled in last season. Johnson fought hamstring issues last season, but got a lot of repetitions at that spot during bowl practices.
 
"He's got good footwork, decent speed and he sees things pretty well," Parker said. "I think he's a tough kid. He has a lot of things to work on, but I think he's the best fit for us inside."
 
Parker mentioned Matt Hankins and Michael Ojemudia as other possibilities there. Hankins started eight games at cornerback last season. Ojemudia started seven games at cornerback.
 
Injuries forced cornerbacks Julius Brents and Riley Moss into starting roles as true freshmen last season. Moss started six games and Brents five. They're contending for significant playing time again. Terry Roberts, a redshirt freshman, has also made progress this spring.
 
"He's definitely got good speed and he's been playing a lot better in the last five or six days," Parker said.
 
Geno Stone has emerged as Gervase's replacement at strong safety, with sophomore Kaevon Merriweather stepping in at strong safety.
 
"I think Kaevon has jumped up there, and I look forward to seeing him continue to grow," Parker said. "Jack (Koerner) has done a good job for us at free safety. He's working his way up the ladder, another walk-on who has himself in a position where he can go out there and compete."
 
Linebackers Dijmon Colbert, Nick Niemann and Kristian Welch all logged significant minutes last season, and Amani Jones, Dillon Doyle and Barrington Wade have worked their way into the rotation.
 
"It's going to be interesting to see who comes out on top, but I think we've got a good group of guys and I don't think one is that far ahead of somebody else," Parker said.
Iowa's spring practice continues through April 26. Requests for 2019 Iowa football season tickets can be submitted HERE or by calling 1-800-IAHAWKS.