Hawkeye Fan Shop — A Black & Gold Store | Hawk Talk Monthly — April | 24 Hawkeyes to Watch | 2019 Football Tickets | I-Club Events Page | Brian Ferentz Transcript (PDF)
By RICK BROWN
hawkeyesports.com
IOWA CITY, Iowa — Tight end has always been a position of strength on University of Iowa football teams under head coach Kirk Ferentz.
 
The latest example will come Thursday night at the NFL Draft, when former Hawkeye tight ends T.J. Hockenson and Noah Fant are expected to get their names called.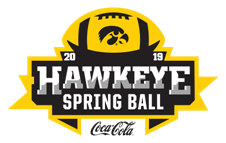 The next man standing? Meet Nate Wieting, a 6-foot-4, 250-pound senior and three-year letterman with seven career starts.
 
"He's a good football player that I think will be very productive," Brian Ferentz, Iowa's offensive coordinator, said Tuesday. "If we weren't comparing him to the two guys that we lost, we would feel good about him as a playmaker. He's not quite going to be the guys we lost, but he can contribute in his own way and have plenty of balls go his way."
 
Wieting fought an ankle injury and contributed as much as he could in 2018.
 
"Nate's a guy that's played a lot for us, dating back to 2016," Ferentz said. "This guy is going to be a four-year contributor. He just took a little bit of a back seat to the two guys we had last year, but played a lot of snaps."
 
The loss of Hockenson and Fant means the door of opportunity is wide open for more than Wieting. Shaun Beyer and Drew Cook are also in a position to see the field for Tight End U.
 
Injuries and depth ahead of him limited Beyer, a redshirt sophomore, last season.
 
"He has been out there this spring and made a lot of progress, pushing forward. I expect him to contribute," Ferentz said.
 
Cook, a senior, made the move from quarterback to tight end two seasons ago. He is sitting out of spring drills because of an injury.
 
"I don't think most guys would have been as willing or eager to (change positions) and he has made a ton of progress over that time," Ferentz said. "I expect him to contribute in a meaningful way for us this fall."
 
Senior Nate Stanley returns for his third season as Iowa's starting quarterback, and his maturity under pressure and ability to get his team in the right play at the line of scrimmage are strengths.
 
"We know what Nate is, and certainly it's a good feeling to have him under center," Ferentz said. "He has played in tough environments against good defenses. He has had his ups and downs, like any of us, but the thing he has done for two years is improve steadily and he has continued to do that through this offseason. It's comforting to know that he has a mentality that's about improvement and seeing if he can't play his best football moving forward."
 
Three running backs — Mekhi Sargent, Toren Young and Ivory Kelly-Martin — received the majority of the carries last season. All three are back.
 
"Mekhi continues to grow," Ferentz said. "Toren Young continues to grow. Both those guys have done a lot of things this spring that maybe I didn't think they were at the level to do as recently as December."
 
Kelly-Martin missed the first two weeks of spring ball while recovering from a procedure on his ankle, but is back getting repetitions. Ferentz said Shadrick Byrd has impressed.
 
Nick Easley was the leading receiver the past two years.
 
"He showed up and was able to plug the holes while we were able to bring young guys along," Ferentz said.
 
Two candidates to replace Easley — Tyone Tracy, Jr., and Nico Ragaini — have received the most attention.
 
The passing game will be bolstered with the return of wide receivers Brandon Smith and Ihmir Smith-Marsette.
 
Ferentz said that Tracy and Ragaini "have jumped off the tape and are doing a nice job."
 
But the true test is carrying practice to a real game.
 
"A lot of guys can do a lot of things when the lights are not on," Ferentz said.
 
The coach takes the same approach with Tyler Linderbaum, who has been moved to center and has done well this spring.
 
"I'm impressed with what he has been able to do in a short amount of time, but I tie that back to the receivers," Ferentz said. "I'll be impressed when we're playing other teams."
 
Offensive tackles Alaric Jackson and Tristan Wirfs have performed well when the lights are on.
 
"Alaric has grown in a lot of ways," Ferentz said. "Tristan has impressed me through the last four weeks. He has seemed to have grown up and matured as a football player and things are starting to make a lot more sense to him."
Iowa's spring practice continues through April 26. Requests for 2019 Iowa football season tickets can be submitted HERE or by calling 1-800-IAHAWKS.