Hawkeye Fan Shop — A Black & Gold Store | Fight For Iowa | Big Ten Tournament Game Notes
THIS WEEK FOR THE HAWKEYES
The University of Iowa women's tennis team (12-11) heads to Lincoln, Nebraska, for the 2019 Big Ten Tournament as the No. 10 seed. The Hawkeyes  face No. 7 Indiana in a first round match Thursday at 2 p.m. (CT).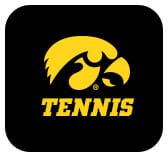 @SASHASCHMID ON 2019 BIG TEN TOURNAMENT 
"We are looking forward to a great match against Indiana. We had a tough battle the last time we played and we know it's going to be another big test for us. We are excited to be in Big Ten tournament and are looking forward to competing hard."
TAKING ON THE HOOSIERS
Thursday's match is the 48th all-time meeting between Iowa and Indiana. Indiana leads the all-time series, 35-12. The Hawkeyes defeated the Hoosiers earlier this season, 4-3, at the Hawkeye Tennis and Recreation Complex. Indiana finished  the season seventh in the Big Ten. 
HAWKEYES' TOURNAMENT HISTORY
It is the second time in three seasons head coach Sasha Schmid has led Iowa to the Big Ten tournament. Iowa's last Big Ten Tournament match was a loss to Indiana, 4-2, in 2017. The Hawkeyes' last tournament win came in 2014 over Michigan State, 4-2
HAWKEYES TO WATCH
Elise van Heuvelen Treadwell led the Hawkeyes with 13 singles wins in the regular season. Van Heuvelen Treadwell is followed by Ashleigh Jacobs (12) and Sophie Clark (11). 
BECOME A FAN
Fans can follow the Iowa women's tennis team at facebook.com and via twitter @Iowa_Tennis. Live results from this weekend are available on the Iowa women's tennis schedule page at hawkeyesports.com.
 
FOLLOW THE HAWKEYES
 Links to live results and a live video stream will be available on the women's tennis schedule page at hawkeyesports.com/playsight