Hawk Talk Monthly — April | Iowa NFL Draft Central Page | 2019 Football Tickets | I-Club Events Page | 24 Hawkeyes to Watch | Hawkeye Fan Shop — A Black & Gold Store | Photo Gallery
By DARREN MILLER
hawkeyesports.com
NASHVILLE, Tenn. — In week 16 of the 2019 NFL season, Detroit will play at Denver with the date and time to be determined.
 
What has already been determined is that both teams will feature two of the top young tight ends in the game.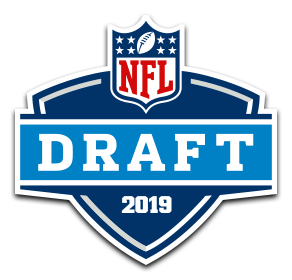 Both those tight ends are University of Iowa Hawkeyes.
 
Detroit, choosing eighth in the first round of Thursday's NFL Draft, selected redshirt sophomore T.J. Hockenson on Thursday in downtown Nashville; Denver, picking 20th in the first round, went with junior Noah Fant. It marks the first time in NFL history that two tight ends from the same team were both selected in the first round.
 
"That's awesome. Noah is a great competitor and a great kid," Hockenson said. "He is going to do well in Denver, I'm excited for him, and excited to watch the way he grows. We're going to grow together."
 
During Iowa's 9-4 season in 2018, Hockenson caught 49 passes for six touchdowns and led the team with 760 receiving yards. The first team All-Big Ten performer was named Kwalick-Clark Tight End of the Year, and he was also recipient of the Ozzie Newsome Award from Touchdown Club of Columbus, Ohio, and the John Mackey Award as the top tight end in the nation.
 
Hockenson was named to multiple All-America teams, including first team by American Football Coaches Association and USA Today.
 
Fant caught 39 passes for 519 yards and a team-high seven receiving touchdowns. For his career, he had 78 receptions for 1,083 yards and 19 touchdowns. The touchdown total is the most by a Hawkeye tight end.
 
"Both of us are open for verdict, we haven't played a down in the NFL yet," Fant said. "We'll see how it goes.
 
"I was happy for (T.J.). Going into the draft, I knew teams wanted different tight ends. There are different types of tight ends in our draft and it depends on what the team wanted. Detroit got a great tight end that fit their system and the Broncos chose me, which I'm happy about. I feel I fit well there."
 
Hockenson became visibly emotional after his name was called by NFL commissioner Roger Goodell. For the small-town kid from Chariton, Iowa, the tears were for family, especially his 92-year-old grandfather, who not only watched Hockenson's final collegiate game — Iowa's 27-22 victory over No. 18 Mississippi State in the Outback Bowl — but was also in attendance for the first round of the NFL Draft.
 
"I wasn't sure if I was going to come (to the Draft) but because I was able to bring everyone — the closest people who have gotten me to this point and share that with them — meant a lot. Being able to share that moment with my grandpa and have him here is something special."
 
That's not the only thing that was meaningful to Hockenson.
 
"I get to be a football player, how cool is that?" he said. "That has been my dream since I was a little kid."
 
Hockenson joins offensive lineman Andrew Donnal with the Lions; Fant once again becomes teammates with linebacker Josey Jewell and long snapper Casey Kreiter.
 
"When I went (to Denver) on my visit, I got to talk to Josey and Casey and they expressed how great it was there and said nothing but good things," Fant said. "When I go back, it is going to be almost surreal seeing those guys again, especially Josey, having played with him and looking up to him being an older guy on our team at that time. It is going to be great."
 
Fant was asked what he will miss most about college football.
 
"I will miss all my teammates," Fant said. "I made a bunch of good friends at Iowa and they will have to come out and visit."
 
A good time to visit would be around Christmas in Week 16 when the Broncos entertain the Lions. With Fant and Hockenson, both teams will feature two of the top young tight ends in the game.