Hawk Talk Monthly — April | Hawkeye Fan Shop — A Black & Gold Store | 24 Hawkeyes to Watch
IOWA CITY, Iowa – University of Iowa junior Elise van Heuvelen Treadwell has been named first-team All-Big Ten, the league office announced Thursday.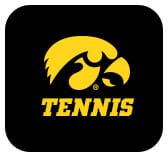 Van Heuvelen is the fifth player in program history to earn first-team all-conference honors three times. She earned first-team All-Big Ten honors in 2017 and 2018, and was named Big Ten Freshman of the Year in 2017.
 
Van Heuvelen finished the season 15-10 overall, playing at Iowa's top two singles positions. She was 7-3 at No. 2 singles, and 8-7 at the top spot. She was 6-5 overall in the Big Ten, with two wins over ranked opponents: No. 50 Katarina Kozarov (Furman) and No. 80 Sara Castellano (Wisconsin).
 
She finished with a 12-9 doubles record, including a win over Ohio State's No. 35 Isabelle Boulais and Shiori Fukuda.
 
Senior Adorabol Huckleby was named Iowa's Sportsmanship Award winner. This is the second time she has won the award (2017). Huckleby served on the Iowa Student Athlete Advisory Committee for three years. She was an executive in 2019, chairing the Diversity and Inclusion Committee. She was liaison to the SAAC Multicultural focus group, and helped write the SAAC Diversity and Inclusion Newsletter. She helped produce the Golden Herky Awards in 2018 and 2019, and attended the Ryan Penneau Leadership Program.
 
Michigan's Kate Fahey was named  Big Ten Athlete of the Year for the second year in a row. Clarissa Hand of Northwestern and Isabelle Boulais of Ohio State were honored as Co-Freshmen of the Year. Michigan's Ronni Bernstein claimed Coach of the Year accolades.