Hawk Talk Monthly – May | Hawkeye Fan Shop — A Black & Gold Store | Mini Pack Information | Mini Packs on Sale June 6 | 24 Hawkeyes to Watch | I-Club Events Page
By DARREN MILLER
hawkeyesports.com
IOWA CITY, Iowa — Jay Niemann has seen and accomplished about everything over the course of more than three decades of coaching college football.
 
He has been head coach, coordinator, won conference championships, gone to bowl games, and worked at nearly every level from Division III to Power Five Division I. Still, he has never coached on the same college team as one of his sons.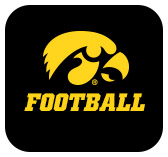 That changed May 1 when Niemann accepted a position as the University of Iowa's assistant defensive line coach and defensive recruiting coordinator. He is the third Niemann to join the program in the last five years.
 
His son Ben Niemann was a linebacker for the Hawkeyes from 2014-17 and is now with the Kansas City Chiefs. Youngest son Nick is a 6-foot-4, 235-pound junior linebacker who made 43 tackles in 11 games last season.
 
"It is just being able to walk past your own sons' locker on the way to practice or to be able to grab him and sit down for lunch at training table," Niemann said. "The first day I was (at Iowa), Nick walked into this office twice in one day. That blew me away. I was like, wow, that has never happened to me. It is going to be neat and we're appreciative and fortunate."
 
Niemann's boss, Iowa head coach Kirk Ferentz, knows the feeling. He had the privilege of coaching sons Brian, James, and Steve with the Hawkeyes at various stages from 2003-16.
 
A native of Avoca, Iowa, Niemann played against the Hawkeyes four times as an Iowa State linebacker from 1979-82 (winning the final three games) and coached against the Hawkeyes four times as an assistant at Northern Iowa, Northern Illinois, and Rutgers (winning 30-27 in 2013 with Northern Illinois).
 
"(Iowa is a) hard-working, fundamental program," Niemann said. "Guys come in, buy into the culture, and believe in what Iowa football stands for. Roll your sleeves up, go to work, lunch pail mentality is what my perception was from the outside. Not necessarily trying to go out there schematically to trick people or do anything like that, but stay after you, be fundamentally sound and know through the course of four quarters you are going to wear somebody down and beat them."
 
There hasn't been much time for Niemann to house-hunt in Iowa City. His first two days on the job were spent getting up to speed on recruiting — his territory includes the middle-third of the state of Iowa.
 
"If you go from Minnesota to Missouri, right down through Des Moines and 100 miles either side of Des Moines, you would have most of it right there," Niemann said.
 
Most of his first month has been life on the road: an I-Club event in Omaha, Nebraska, attending the Iowa State Track and Field Championships, recruiting visits. His familiarity with the state and its high schools is a plus.
 
"It makes things go smoother any time you take the anxiety out of not knowing where you're going or who you're going to meet because you have never done it before," Niemann said. "To be able to walk into a majority of these high schools and know somebody, whether it be the head coach or athletic director, is invaluable."
 
Niemann was also familiar with Iowa's recruiting approach; he saw it play out in person when the Hawkeyes recruited Ben, who at the time had verbally committed to Northern Illinois where Jay was a coach.
 
"First thing I had to do was step back out of the role as coach and just be dad," Jay said. "Ben said to me one night, 'What would happen if I chose to go to Northern Illinois and you ended up not being there because another opportunity came along?' He said I have invitations to go to camps at Power Five schools and would like to consider doing that."
 
A high school strong safety and wide receiver, Ben visited Iowa and defensive coordinator Phil Parker and linebacker coaches Jim Reid and LeVar Woods projected him as a Leo linebacker. After camp, a scholarship was offered.
 
"We mulled it around a little bit and he felt he wanted to come to Iowa," Jay said.
 
Iowa's gain was a big loss to Northern Illinois. It also ended Jay's opportunity of being on the same team as his son. During Ben's career, Jay was in attendance for all Iowa bowl games as well as another seven or eight regular-season games. Wife Lou Ann was the lone parent in attendance for Ben's Senior Day since Jay was coaching Rutgers the same day at Indiana.
 
"I didn't see as many as I would have liked," Niemann said.
 
The days of leaving a stadium to watch his son's game on DVR are over for Niemann. He knows the next two years will be special with Nick on Iowa's roster and he on staff. Jay has thoughts of how sharing game day with family will feel.
 
"We are coming back home (to Iowa), we are coming to a great program with a great head coach," Niemann said. "This is a no-brainer decision. Then you factor being a coach on the team your son plays for, this didn't take any thought at all."
 
Niemann replaces Reese Morgan, who retired in March after 19 years with the Hawkeyes. Like it was for Morgan, Niemann expects this to be the final stop on his coaching journey.
 
"I'm not planning on being anywhere else. I'm going to set roots down here and dive into this thing and give it my all," said Niemann, who has made nine previous coaching stops. "I'm going to give you my best every day, that's what I can promise you. I'm looking forward to being able to contribute however I can and hopefully it will be a good, long ride."
 
A ride that will be more enjoyable because for once he can share it with family.
Sign up for more mini pack information: Click HERE.
Mini Packs on sale June 6: Click HERE.