24 Hawkeyes to Watch 2018-19 | Fight For Iowa | Hawk Talk Monthly – May
By SHANE STURTZ
hawkeyesports.com
IOWA CITY, Iowa — Two months ago on the heels of a strong freshman season, University of Iowa's Joe Wieskamp entered his name in the 2019 NBA Draft.  Three weeks ago, he withdrew his name from consideration, but the process is one that can pay off down the road.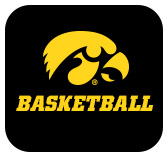 "I learned a lot," Wieskamp said. "It was a great experience to see a couple different places, the environment, and the type of personnel. I was able to work out with different guys from different teams, and receive feedback on areas where I can improve moving forward. That way if I do have a good year or in the future, that'll be something I can do — take that next step."
 
Playing in the NBA has been Wieskamp's dream. The NBA Draft process was essentially an internship alongside NBA personnel — an invaluable opportunity — that brings that dream closer to reality.
 
"(I had) a lot of different interviews with team personnel and a lot of networking," said Wieskamp. "Getting your name out there and putting you on their radar; that way they're watching you more closely this year."
 
As a freshman, Wieskamp ranked third on the team in scoring (11.1) and steals (32), second in rebounding (4.9), and second among Big Ten players in 3-point field goal percentage (.424, 59-of-139). With more eyes on Wieskamp's game and advice from the game's best, expect to see a new, improved version in 2019-20.
 
"There are a few different things they want me to work on," Wieskamp said. "You will see that, as the year progresses, the way my game is going to adapt and change. It's going to change with different personnel, but you'll be able to tell."
 
Wieskamp was the fourth Hawkeye since 2016 to test the NBA Draft waters before returning to Iowa. Peter Jok went through the process in 2016, while Tyler Cook and Isaiah Moss did a year ago.
 
For Cook and Jok, head coach Fran McCaffery remembered there leadership making the biggest jump.
 
"Pete's senior year, he led the Big Ten in scoring and was an unbelievable leader for a very young team," McCaffery said. "We won 19 games after a slow start and he pretty much carried us. Tyler was a completely different player than he was the year before. His numbers were still good, but from a leadership and confidence standpoint, he was substantially better."
 
Like Cook and Jok, Wieskamp is focusing on developing his intangibles and becoming a better, vocal leader.
 
"I'm going to have to step this year and be a leader," Wieskamp said. "I'm going to have to expand myself and become more vocal this year."
 
From leadership to expectations, there were a lot of unknowns for Wieskamp coming into college. Now, he's ready to become a more complete player and build on an NCAA Tournament run, and his coach agrees.
 
"I expect him, as great as he was, to be better," said McCaffery. "He's in a great place physically and from a confidence standpoint, he knows what to expect. I put a tough schedule in front of him. I want to challenge him to be a guy that can help us and carry us."
 
Wieskamp is up for the challenge.
 
"We accomplished a lot this season, but we have another great group of guys coming back and we're excited to get to work," Wieskamp said.