Hawk Talk Monthly – June | Hawkeye Fan Shop — A Black & Gold Store | 24 Hawkeyes to Watch 2018-19
By JAMES ALLAN
hawkeyesports.com
IOWA CITY, Iowa — Before Nate Stanley returned to Iowa City to begin summer workouts with the University of Iowa football team, he spent time on the water with friends in Menomonie, Wisconsin.
 
"It lets me relax and step away from football," said Stanley, Iowa's senior quarterback. "I am hanging out with friends from high school. They see me as one of their friends, they don't see me as a football player.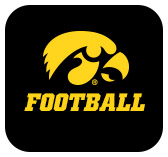 "It's nice to be surrounded by friends that you were with from when you were 6 or-7-years old and to step away from football and reconnect with those friends from back home."
 
Stanley will reconnect with his Hawkeye teammates on the field Wednesday. Iowa began summer workouts June 10, but the team will now take the field for their first set of skills-and-drills workouts.
 
It will be Stanley's first extended look at Iowa City native Oliver Martin, who transferred to the Hawkeyes from Michigan earlier this month.
 
"I have thrown a little with him," said Stanley. "I am happy he is here. I know if he's eligible to play that he can contribute for us."
 
During his redshirt freshman season at Michigan, Martin made 11 receptions for 125 yards and one touchdown.  As a prep at Iowa City West High School, Martin was a prolific wide out, finishing with a school-record 239 catches for 3,433 yards en route to being the 2016 Iowa Gatorade Player of the Year.
 
"(Oliver) is fast and has great hands," said Stanley. "I haven't thrown that much, but he reminds me a lot of Nick (Easley) with the same body type. Nick had great production here, maybe (Oliver) can do something like that."
 
Easley finished his two-year Iowa career with 103 catches for 1,024 yards after transferring to Iowa from Iowa Western Community College. Easley capped his career with a MVP performance in Iowa's Outback Bowl victory over Mississippi State.
 
"We have a lot of guys that could step into that position," said Stanley. "Nico (Ragani), Tyrone (Tracy, Jr.), and Oliver, if he's available. It's a big spot in our passing game, especially down field. It is big to find somebody that can produce there and in run blocking.  We need someone who can be physical and get down field."
 
Stanley says there is a unique feeling for him heading into the 2019 season — his third as Iowa's starting quarterback.  He enters his senior season having thrown for 5,351 yards and 52 touchdowns, while completing 58 percent of his passes.
 
"It seems different now that this is my last year of eligibility," he said. "I want to continue to take it one day at a time. The best way is to live in the moment and do everything I can today to make sure I have a great season."
 
Stanley will have an opportunity to learn from a "first family" of football when he attends the Manning Passing Academy from June 27-30 in Thidodaux, Louisiana.  He will be a camp counselor on the campus of Nichols State University, while learning from the likes of Archie, Peyton, Eli, and Cooper Manning.
 
"It's special to be considered up there with some of the top quarterbacks in the country," he said. "It's an awesome experience and I am thrilled that I was invited to go."
 
Iowa football mini packs are on sale through the University of Iowa Athletic Ticket Office at 800-IA-HAWKS or hawkeyesports.com/tickets.  Single-game tickets go on sale July 18 with the exception of games against Penn State and Minnesota.