Hawk Talk Monthly – June | Fight For Iowa
By JAMES ALLAN
hawkeyesports.com
IOWA CITY, Iowa — CJ Fredrick is primed for a bigger role with the University of Iowa men's basketball team and his redshirt freshman season as a Hawkeye prepared him for such.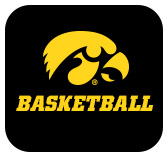 "This past year practicing against a top 25 team for most of the season has expanded my game," said Fredrick, the 2018 Kentucky Gatorade Player of the Year. "I am creating more, I got better defensively, and am better with the ball."
 
When Fredrick arrived in Iowa City, he wasn't ready physically.  When he got to campus, he weighed 170 pounds. Heading into the 2019-20 season, Fredrick has added 25 pounds to his 6-foot-3 frame.
 
"My body wasn't ready last year," he said. "I gained weight and got more athletic."
 
On the court, Fredrick said the redshirt was beneficial, but it was also a big adjustment. He learned how defenses scheme, learned the plays, and how to run an offense at the point.
 
During his prep career, Fredrick was a prolific, efficient scorer at Covington High School in Cincinnati, Kentucky.  He scored a single-season school-record 900 points and averaged 23.1 points as a senior, while shooting 48.4 percent from 3-point range.  He went off at the state tournament, scoring 111 points in four games, including two 32-point outbursts, to lead Covington to a state title.
 
Coming out of high school, Fredrick was a shooter.  Following his redshirt season, he is more of a complete player.
 
"My overall game got better," said Fredrick. "I am a good passer, shooter, have a good IQ, can read the game and how others are feeling."
 
Following the Hawkeyes' run to the second round of the NCAA Tournament, it brought change.  Tyler Cook is pursuing professional basketball, Isaiah Moss and Maishe Dailey transferred, and Jordan Bohannon's status for the 2019-20 season is in flux while recovering from hip surgery.
 
There is opportunity and the summer is a start for Fredrick.
 
"I am excited to get back to playing," said Fredrick. "The redshirt year was a long year, but it was good for me to get stronger, more athletic, and better.  I am looking forward to having a bigger role. I am looking forward to getting back and playing basketball, the game I love.
 
"I am trying to do whatever I can to help us win.  We have a lot of pieces so whatever they need me to do, I'll do."
 
Senior Ryan Kriener has been impressed with what he has seen of Fredrick's game. 
 
"He's good from 24 feet with a hand in his face, knocking (shots) down," said Kriener. "He's good on pick and rolls and around the rim. I am predicting he'll have a good year."
Season ticket renewals are currently underway through the Iowa Athletics Ticket Office.  Requests for new season tickets can be accessed HERE.