Hawk Talk Monthly – June | Hawkeye Fan Shop — A Black & Gold Store | Fight For Iowa | Photo Gallery – Friday | Photo Gallery – Thursday
By JAMES ALLAN
hawkeyesports.com
CHICAGO — Coming off a nine-win season, University of Iowa head football coach Kirk Ferentz believes the Hawkeyes can field a championship-level team in 2019.
 
"We have a chance, an opportunity," Ferentz said Friday at Big Ten Media Days at the Chicago Hilton. "The first thing you have to do is put yourself in a position to be competitive. Once you get to that spot, it's a matter of handling all the little things well.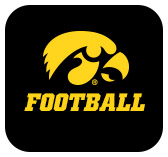 "Last year I thought we played good football.  All of our four losses — I can do math, they didn't come down to one possession — but if you were at the games, they were basically one-possession games, and that's the difference between being at the top, being near the top, being in the middle, or being at the bottom. It's how you handle those things."
 
The Hawkeyes return 12 starters — six on offense and four on defense — from a team that went 9-4 and won the Outback Bowl with a 27-22 victory over No. 18 Mississippi State. 
 
Senior Nate Stanley returns for his third-year as Iowa's starting quarterback, while junior A.J. Epenesa, who was one of 10 players named to the Big Ten Preseason List, will join the starting lineup to anchor a new-look Hawkeye defense.
 
A LOADED RUNNING BACK ROOM
Ferentz says the team's running back depth is a good problem to have. Iowa returns its top three rushers from the 2018 season in juniors Mekhi Sargent, Toren Young, and Ivory Kelly-Martin, a trio that combined for 1,416 yards and 16 touchdowns in 2018. 
 
"Our top three guys are established and we feel good about them," said Ferentz. "Ivory is healthy and good to go.  (Shadrick) Byrd did a good job in the spring for a young guy and we're eager to see what (Tyler) Goodson can do, too."
 
Byrd joined the program in January and participated in spring practices after rushing for 1,340 yards and scoring 17 touchdowns as a senior in Alabama.  Goodson was the Georgia Player of the Year as a senior after rushing for 1,180 yards and 25 touchdowns for North Gwinnett High School.
 
"They're not getting pressed too hard," said Ferentz. "In June, the first-year guys are in the kiddie pool or in the shallow end.  We're not going to wear them out, but we'll see what they can do. (Running back) is a position where young guys can play, so we'll keep an open mind.
 
"We'll get our best guys on the field. That's our goal regardless of who it is."
 
WHO'S NEXT AT TIGHT END U?
Ferentz likened tight ends T.J. Hockenson and Noah Fant to Brad Banks, Dallas Clark, Bob Sanders, and Robert Gallery. In other words, he compared them to Hawkeye legends.
 
"You don't replace guys like them," said Ferentz. "They are legendary players for a reason.  They end up climbing the ladder and anytime you talk about losing a first-round player, that's a special accomplishment."
 
The Hawkeyes must move on from the duo's 88 receptions, 1,279 yards, and 13 touchdowns.  Ferentz says the position won't be as deep, but he's confident Nate Wieting, Shaun Beyer, and Drew Cook can step up to the occasion.
 
"(Nate) is a good football player and I think he is waiting for his opportunity," said Ferentz. "He has practiced and trained well and I am confident he'll play well for us.
 
"Shaun is a guy who hasn't put it all together yet, but he has the potential to and this will be a great time for him to take a big step forward.  Drew was out this past spring, but we think he can help us at the position as well."
 
IT'S STANLEY AND…
Nate Stanley has started 26 consecutive games and he ranks in the top 10 in school history in career passing yards (5,351) and total offense (5,240).  His 52 touchdown passes over the past two seasons are the most over a two-year period in school history.
 
Stanley is the clear-cut starter then it's Peyton Mansell, Spencer Petras, and Alex Padilla. 
 
"This spring all three players were out competing and did a good job," said Ferentz. "Alex joined us in January and did well.  This is a big growth time for young quarterbacks because they've gone through spring practice in our offense."
 
BONUS OLIVER?
The Hawkeyes added a playmaker to their wide receiver room when Iowa City native Oliver Martin elected to transfer in June from the University of Michigan. It was a decision that caught Wolverine head coach Jim Harbaugh off guard.
 
"He really had a heck of a spring and was at the top of our depth chart coming out of spring ball and was doing very well in school," said Harbaugh. "That was a surprise."
 
The question that remains is whether Martin will be eligible this as a Hawkeye this fall or if he will have to wait until 2020. It's a decision that is in the hands of the NCAA.
 
"Oliver is petitioning and has appealed it," said Ferentz. "I have no idea what the timetable is.  Our compliance handles it and his family has obtained an attorney. We'll wait and see how it goes."
 
Martin appeared in 13 games for Michigan in 2018, making 11 receptions for 125 yards with one touchdown.  He scored his first career touchdown during a three-catch performance against Rutgers.
 
"We think he's a good football player and a good young person," said Ferentz. "If he can help our team, we're up for anyone who can help us.  I am not counting on it, so it would be a bonus if that happened."
The Hawkeyes open the 2019 season Aug. 31, hosting Miami, Ohio. For ticket information, visit hawkeyesports.com/footballgameday.