Hawkeye Fan Shop — A Black & Gold Store | Hawk Talk Monthly – June | Photo Gallery — Friday | Photo Gallery — Thursday
BY JAMES ALLAN
hawkeyesports.com
CHICAGO — Nate Stanley admired NFL quarterbacks Tom Brady and Peyton Manning. In June, Stanley learned from the latter at the Manning Passing Academy in Louisiana.
 
The University of Iowa senior quarterback served as camp counselor with 45 quarterbacks from around the country.  He instructed campers ranging from seventh to 12th grades before working out with Peyton and Eli Manning for 90 minutes daily.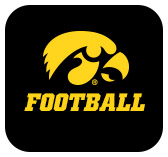 "It was a great experience," Stanley said Friday during Big Ten Media Days at the Hilton Chicago. "Being able to meet a lot of other quarterbacks from around the country was cool.  Football is a hard game as a quarterback, you have a lot on your shoulders.
 
"Being able to talk to the other guys and see how they handle the pressure of the situation they're in, and being able to meet Eli, Peyton, and Archie was a tremendous opportunity to learn from the best in the business."
 
Stanley said when he arrived at Nichols State University, the Mannings knew each of the quarterbacks by their first names.  He would like to think they knew his game.
 
"They were personable," he said.
 
Stanley had a common acquaintance with Peyton Manning through Iowa head coach Kirk Ferentz. 
 
"Coach Tom Moore is a good friend of coach Ferentz," said Stanley. "He will come visit during practice, and he was Peyton's offensive coordinator in Indianapolis. That was a cool connection.
 
"I talked to him about that and Dallas Clark, with him being Peyton's tight end for a long time. It was a good talking point."
 
Stanley said most of the workouts revolved around drill and footwork that the quarterbacks could utilize during the offseason, but there was a question-answer segment with the two Super Bowl champion signal callers.
 
"Most of the interaction was on the field," said Stanley. "It was an introduction to different drills they did. The main thing I took away was the different drills they do and the attention that they have behind their drills to make it as game-like as possible."
 
Stanley said it was human nature to see how he stacked up to the others in attendance.  The group included quarterbacks from 16 conferences, including the Big Ten, SEC, ACC, and Pac-12. 
 
"Everybody did a great job being supportive," he said. "We were there to help the kids, but were also there to compete. We didn't want to make it excessive or do anything that would ruin a friendship."
 
One of the relationships Stanley developed was with fellow Big Ten West Division quarterback Adrian Martinez of Nebraska.  They were the only two Big Ten quarterbacks in attendance.
 
"He's a great guy," said Stanley. "I got to hang out with him for quite a bit of that weekend. It was special to meet him, someone I compete against. He's a great competitor, player, and athlete.  It was special to talk to him on a different level than just as competitors."
 
Overall, Stanley said it was unbelievable experience.
 
"It was awesome being able to meet those guys, see their training regime, and pick their brain as to how they prepare mentally and physically for the season," said Stanley.
 
 The Hawkeyes open the 2019 season Aug. 31, hosting Miami, Ohio. For ticket information, visit hawkeyesports.com/footballgameday.