Hawkeye Fan Shop — A Black & Gold Store | Fight For Iowa | 24 Hawkeyes to Watch 2018-19
By JAMES ALLAN
hawkeyesports.com
 
IOWA CITY, Iowa — Bakari Evelyn's roundabout path to the University of Iowa men's basketball team has made him a seasoned graduate transfer.
 
Evelyn's final collegiate stop in Iowa City will be his fifth school since high school.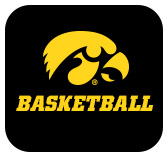 "I have been on the move," said Evelyn, a guard from Detroit. "I have learned through all my experiences, which has helped me get here. I have been through the ringer, but it has prepared me for this."
 
Evelyn played his first three seasons of high school basketball at Southfield Christian in Detroit, where he led the team to a 73-7 record and three Class D state titles.  He spent his senior season at Hillcrest Academy in Arizona, averaging 25.4 points, 5.3 rebounds, and 4.3 assists.
 
Evelyn's collegiate basketball career began in the Big Ten Conference at Nebraska before he transferred to Valparaiso for three seasons. After sitting out a year, he was a Missouri Valley Conference All-Newcomer Team selection in 2018, averaging 12.6 points before his scoring dipped to 8.4 points last season as he was battling through an ankle injury.
 
His ankle has healed and he is ready to contribute as a Hawkeye.
 
"Last season I was dealing with things," said Evelyn. "I had the surgery two or three months before the season, so I was fresh off it. Now having gone through the whole season, spring, and summer, I feel great."
 
Evelyn grew up watching Big Ten basketball: His mother is an Ohio State alum, his father went to Michigan State. 
 
"In some ways, (ending up in the Big Ten) was bound to happen," he said.
 
After playing in a set-oriented offense with the Crusaders, Evelyn is looking forward to playing in Iowa's fast-paced offense in his final collegiate go-round. He says he will fill whatever role is needed to help the team succeed.
 
"It's a different style (than Valparaiso)," he said. "I love to get up and down and play fast. That's what we play, five out and four around one, moving the ball and having screens and cutters. That will fit my style of play.
 
"I will bring experience, play-making, and scoring to this team. I will do whatever is needed to help the team win."
 
Evelyn has been training both on and off the ball during summer workouts.
 
"It doesn't matter (where I play)," he said. "I have been more accustomed to having the ball in my hand, playing at Valpo the last couple of years, but I can play off ball. That's something I have been working on this summer, learning how to move and be off the ball and play off the other good players we have."
 
Evelyn is adjusting to Iowa City and his new teammates, but he's enjoying the experience.
 
"I have been here for a couple of weeks, so I am still fairly new," he said. "It has been great being here. I am enjoying Iowa City; it has been a blast."
 
Season ticket renewals are currently underway through the Iowa Athletics Ticket Office.  Requests for new season tickets can be accessed HERE.