24 Hawkeyes to Watch 2019-20 | Hawkeye Fan Shop — A Black & Gold Store | Hawk Talk Monthly – June
BY DARREN MILLER
hawkeyesports.com
IOWA CITY, Iowa — One thing University of Iowa defensive coordinator Phil Parker looks for in a recruit is their fondness for contact.
 
Parker was pleased when, in the fall of 2014, he attended a Michigan high school Division 2 state football semifinal between Muskegon Mona Shores and Farmington Hills Harrison. One of the stars for Harrison was 175-pound defensive back Michael Ojemudia, an Eastern Michigan commit whose brother, Mario, was a defensive end at Michigan.
 
"I thought he was long, could play either corner position, and was tough enough to be able to tackle guys in space," Parker observed.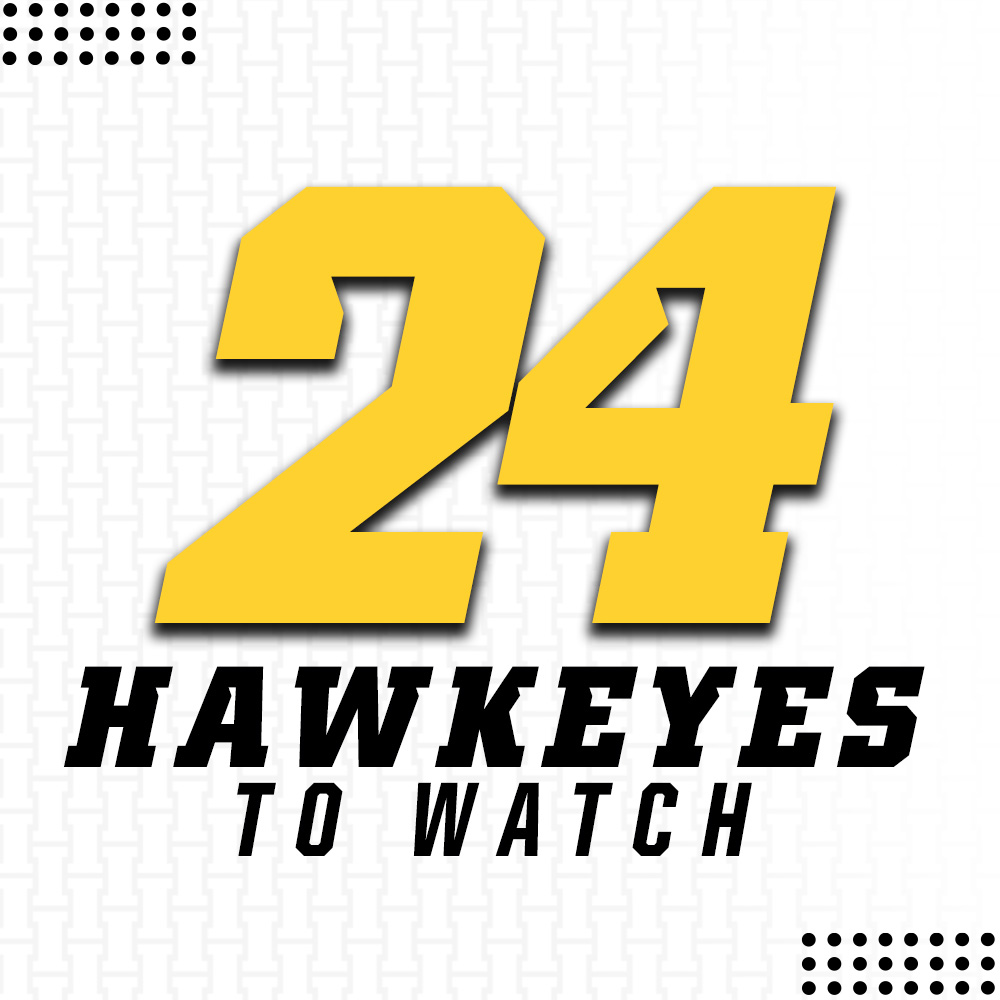 Oh yeah, he also knocked two quarterbacks out of the game, the first being Tyree Jackson, who is now with the Buffalo Bills.
 
Iowa offered Ojemudia a scholarship and several Big Ten programs followed the Hawkeyes' lead. A final decision was made after Ojemudia took an official visit to Iowa City.
 
"I didn't need to take any other visits," he said. "I had another visit scheduled to Indiana, but I knew I didn't need to take any more because I liked Iowa a lot."
 
What's not to like about Iowa's history of developing defensive backs? When Ojemudia arrived on campus in 2015, the depth chart was stocked with future NFL players Desmond King, Greg Mabin, Josh Jackson, and Amani Hooker.
 
Parker has earned a reputation of turning lightly-recruited prospects into Tatum-Woodson Big Ten Conference Defensive Backs of the Year. It has happened four times since 2012 and three of the past four seasons with Micah Hyde (2012), King (2015), Jackson (2017), and Hooker (2018).
 
The 6-foot-1, 200-pound Ojemudia stays in touch with former teammates and that connection reaffirmed his "Once a Hawkeye, Always a Hawkeye" belief. Instead of revealing the wonders of professional football, King, Jackson, and Hooker want to talk to Ojemudia about college ball. Specifically Iowa's 2019 season.
 
"There are a lot of big games on the schedule and they want to see us go back to a Big Ten Championship," Ojemudia said. "They remind me that you aren't doing it for yourself, you're doing it for the whole state of Iowa. Getting back to the Big Ten Championship would be good to see."
 
Six other teams in the Big Ten West Division share that goal. Ojemudia is among a handful of Hawkeye fifth-year seniors who attended the 2015 Big Ten Championship in Indianapolis (a 16-13 loss to No. 5 Michigan State).  
 
He is also fresh off attending the Big Ten Football Media Days in Chicago from July 18-19. At one point during the shuffle between interviews, a Rose Bowl representative approached Ojemudia, senior quarterback Nate Stanley, and junior running back Toren Young with rose lapel stickers to be placed on their sport coats. A return trip to Pasadena would be an impressive bookend to Ojemudia's collegiate career.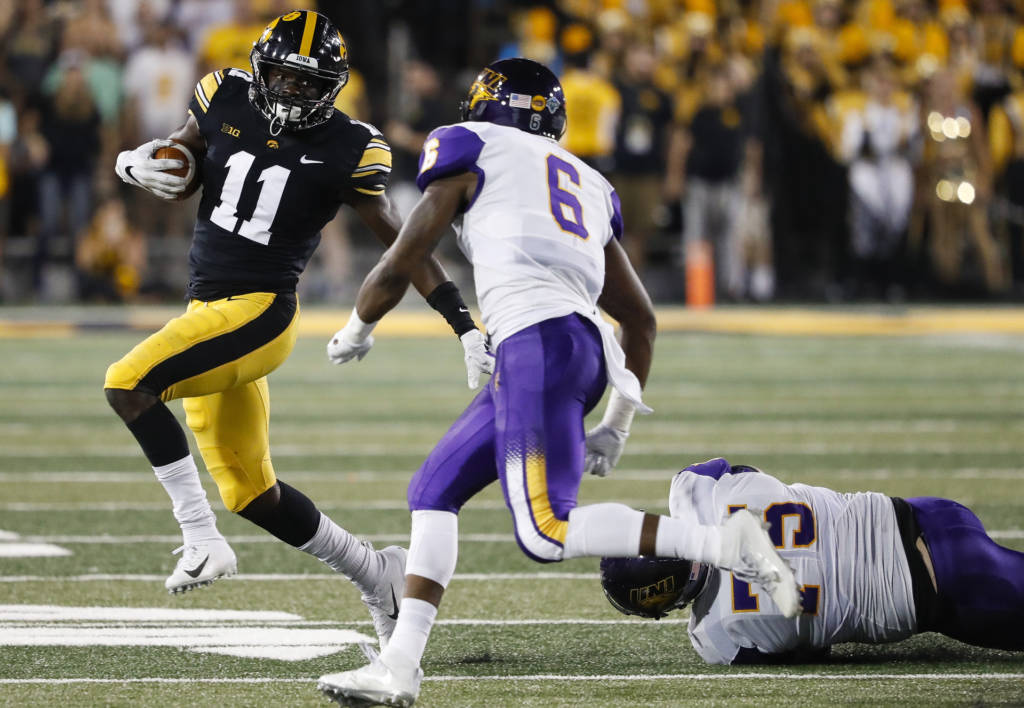 Like many college student-athletes, Ojemudia's career has been defined by patience. He was redshirting on Jan. 1, 2016, when the Hawkeyes came up short against Stanford in their most recent trip to the Rose Bowl. He made five tackles as a freshman in 2016, then his playing time increased.
 
As a sophomore, Ojemudia started three games and made 29 tackles (20 solo). He started seven times last season, making 39 tackles with nine pass breakups and three interceptions.
 
"There is patience to it, because you might be behind a guy (on the depth chart), so you have to learn from him and your coaching," Ojemudia said. "Similar to high school, I have always been a developmental player, so the best years are usually my later years.
 
"Gaining the most information each year has been my objective; getting better little-by-little so I can have the best campaign my senior season."
 
Ojemudia had a strong finish to the 2018 regular season. In Iowa's 11th game — a 63-0 win at Illinois — he made four tackles, defended two passes, and intercepted another. Six days later — during a 31-28 win over Nebraska — he made three tackles with two pass break-ups and an interception.
 
"You have to make the plays that come your way and when you're playing (cornerback) you might only get three or four opportunities a game," Parker said. "You have to be ready for that and you don't know when they are. I expect him to be ready for that; he did well this spring and I'm looking forward to when he reaches his full potential."
 
Being the only senior starter in the secondary will require Ojemudia to polish his leadership skills. Sure, he wants to be All-Big Ten and All-America, but he also wants to impart his wisdom inside a defensive back room that includes 14 freshmen and sophomores. It won't be a one-man job.
 
"Collectively, (junior) Geno (Stone), (junior) Matt (Hankins), and I are looked upon to lead," Ojemudia said. "We're going to need the help of the younger guys, so one of my roles will be showing by example how to do things and to bring them along as a coach on the field."
 
Iowa finished the 2018 season with a record of 9-4 and an Outback Bowl victory over No. 18 Mississippi State. The Hawkeyes were seventh in the nation in total defense (allowing 293.6 yards per game), 11th in scoring defense (17.8 points per game), and 17th in fewest passing yards allowed (184.1 per game).
 
"We can be good in-and-out, top-to-bottom, from defensive backs to the defensive linemen," Ojemudia said. "There is talent across the board, so putting the best guys on the field will be our objective."
 
Ojemudia will be one of those guys. Opposing quarterbacks should plan accordingly.