24 Hawkeyes to Watch 2019-20 | Hawkeye Fan Shop — A Black & Gold Store | Hawk Talk Monthly – June
BY DARREN MILLER
hawkeyesports.com
IOWA CITY, Iowa — Duke Slater had to choose before his sophomore year at Clinton (Iowa) High School: would it be a $4 pair of football cleats or a $6 helmet?
 
In 1913, Clinton High didn't supply student-athletes with shoes or helmet, and since the Slater family was financially strapped, Duke had the resources for just one. He decided on shoes, and because his feet were so large, the cleats were special-ordered from Chicago.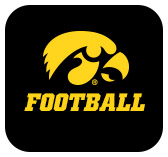 Slater led Clinton to mythical state football championships in 1913 and 1914 and eventually enrolled at the University of Iowa, where he excelled from 1918-21. The 6-foot-1, 215-pound lineman became a three-time All-Big Ten selection, second-team All-America in 1919, and first-team All-America in 1921.
 
His groundbreaking exploits are once again being recognized.
 
A 6 ½-foot-by-14-foot bronze relief depicting a helmetless Slater clearing a hole for Gordon Locke in a 1921 game against Notre Dame is a permanent addition to the exterior of Kinnick Stadium's concourse. The relief, sculpted by J Brett Grill, is attached to the outside of the renovated North End Zone, facing a public walkway.
 
The relief is based on a photo taken by F.W. Kent and also includes Hawkeye greats Lester Belding and Aubrey Devine, who were on the field but not involved in the touchdown run.
 
An excerpt from a plaque that accompanies the relief reads:
 
"Slater drives the opposition back in calm determination. His life in football and beyond was defined by triumph and relentless breaking of boundaries."  
 
His given name was Frederick, but Slater quickly became known by the name of the family dog, Duke. He was born Dec. 9, 1898, in Normal, Illinois, and learned football by playing pickup games in a rough area on the south side of Chicago. Slater then relocated to Clinton because his father George, was a Methodist minister. Worried about potential injuries, George forbid his son from participating in football, a warning Duke did not heed.
 
Slater was able to play his first season at Iowa because eligibility rules had been suspended since the United States was involved in World War I. From 1918-21, with Howard Jones as head coach and Slater anchoring Iowa's lines, the Hawkeyes went 23-6-1, including a perfect 7-0 season in 1921. He became the first black All-American in University of Iowa history when he was named second team in 1919; Slater was named first-team All-America two seasons later. 
 
On Oct. 8, 1921, Iowa defeated Notre Dame, 10-7, in Iowa City, its most impressive victory during a national championship run. The Hawkeyes scored all 10 points in the first quarter with Locke's touchdown coming thanks to Slater, who body-blocked three Notre Dame defenders during the play. Iowa's victory snapped a 20-game winning streak by the Fighting Irish.
 
Slater went on to play 10 seasons of professional football, starting 99 games and playing all 60 minutes in 90 of them. He was a six-time All-Pro and was regarded as the premier lineman for the first decade of the NFL, which was founded in 1920. 
 
Slater was also a standout on Iowa's track and field teams, competing in the shot put, discus, and hammer throw.
 
Slater, who was the first African-American elected to the College Football Hall of Fame in its inaugural class in 1951, died of stomach cancer in 1966 at the age of 67.