Hawkeye Fan Shop — A Black & Gold Store | I-Club Events Page | HOF Spotlight: Eric Juergens | HOF Spotlight: Diane Pohl
By RICK BROWN
hawkeyesports.com
IOWA CITY, Iowa — Deb Brickey was a freshman in high school when some of her friends took up field hockey.
 
"I was like, why not?" Brickey said.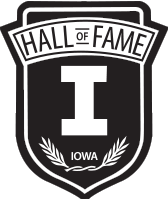 A multi-sport athlete at Parkway North High School in Creve Coeur, Missouri, she had found her calling.
 
"Once I stepped on the field and saw how fast-paced and exciting the game was, I think I was sold after that," Brickey recalled. "It was a fun, competitive game, a cross between ice hockey and soccer. It was perfect for me."
 
Brickey was also a perfect fit at the University of Iowa, where she was a three-time All-Big Ten selection and two-time All-American before graduating in 1985. A two-time team captain, Brickey played on teams that won three Big Ten titles and was an NCAA runner-up in 1984.
 
She is one of seven inductees into the 31st National Iowa Varsity Club Hall of Fame class Aug. 30 at the Coralville Marriott Hotel and Convention Center.  Tickets to the event, which is open to the public, can be purchased HERE (use promo code VCHOF).
 
"It's humbling," Brickey said. "Especially with all my teammates, all the great people who have played at Iowa, all the great people that have gone on to bigger and greater things after their field hockey careers. I feel honored and have a huge responsibility to all those players because there are so many that deserve this honor.
 
"The pressure is on me to keep performing and upholding that great tradition that Iowa field hockey is about."
 
Field hockey has become Brickey's lifelong passion. After getting her bachelor of science degree in 1985, she would go on to earn a spot on the United States National Field Hockey team (1988-90). She was also an alternate on the 1988 U.S. Olympic Team.
A member of the Big Ten All-Decade team in the 1980s, she coached at the Division I level for more than a decade before leaving to pursue a business career.
 
That dream has taken her back to field hockey. She now lives in Madison, Connecticut, and is owner and director of the HTC (Hear the Cheers) Field Hockey Club.
 
"We started with 20 kids and now we're up over 500," Brickey said.
 
HTC emphasizes having fun with the game.
 
"We're going to try to win all these tournaments, and get kids to play in college and move on to the next level," Brickey said. "But the bottom line is everyone is going to enjoy themselves, with no pressure."
 
Brickey and Marcia Pankratz, another former Iowa field hockey standout, also run 4Goals LLC. They conduct tournaments and clinics across the country.
 
Brickey's career was shaped by two coaches along the way. The first was Cathy Thurwacther, her coach at Parkway North.
 
"I remember from those days just how passionate she was for the team, and for us, and how she made it fun," Brickey said. "She took a group of public school kids and we played a couple years together and won the state championship my senior year. She knew how to keep it fun and competitive, and get the best out of all the players."
 
When it came time to pick a college, Brickey had offers from Saint Louis, Michigan, and San Jose State. But she and her Parkway North teammate, Mary Kobaldt, picked Iowa.
 
"We decided to stay together and go to the next level together," Brickey said. "So it was an easy choice for us."
 
Head coach Judith Davidson's program gave Brickey the tools to flourish.
 
"From the beginning, when you walked into her program it was like nothing I had ever been exposed to before in terms of the level of competitiveness," Brickey said. "Just how hard she demanded us to work.  She absolutely respected each and every person's individuality, but there was one team goal and we all strove to maintain that."
 
The Hawkeyes reached the NCAA finals in 1984, losing the title game to Old Dominion. Five years later, Brickey was an assistant coach at North Carolina. The Tar Heels beat Old Dominion in the title game.
 
"That was great revenge, great fun to beat them," Brickey said.
 
She later was head coach at Virginia Commonwealth and Northwestern, but the goal of a business career took her in another direction. It turns out she landed where she started, back in a sport that caught her imagination in ninth grade.
 
"I'm lucky and blessed to combine those two things," Brickey said. "It has been a wonderful journey so far."
 
Brickey has plenty of memories of her time at Iowa, the big victories and tough losses.
 
"There was a lot demanded from us, but we were rewarded," said Brickey, who will join Kobaldt, Pankratz, and Davidson as members of the University of Iowa Athletics Hall of Fame. "I think that's the biggest thing I got from Iowa. The people, that love and the way we're so proud to be part of that Iowa family."