Hawkeye Fan Shop — A Black & Gold Store | HOF Spotlight: Marc Long | HOF Spotlight: Diane Pohl | HOF Spotlight: Eric Juergens | HOF Spotlight: Jeremy Allen | I-Club Events Page | HOF Spotlight: Deb Brickey
By DARREN MILLER
hawkeyesports.com
IOWA CITY, Iowa — People notice when a 6-foot-1 seventh grade girl walks the halls of her school. Especially if one of those people is a basketball coach.
 
Tangela Smith was 12-years-old when a junior high basketball coach invited her to try out for the team. At the time, all Smith wanted to be was a model.
 
"Everybody would tell me I was so tall, thin, and pretty and I should be a model," Smith said. "That stuck in my head, I didn't think about basketball."
 
She obliged, the try-out went well, Smith continued to grow to 6-3, and the sport of basketball continued to grow on Smith. From 1994-98 at the University of Iowa, she scored 1,598 points with 859 rebounds and 235 blocked shots.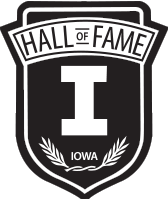 Smith is one of seven inductees into the 31st National Iowa Varsity Club Hall of Fame class Aug. 30 at the Coralville Marriott Hotel and Convention Center. Tickets to the event, which is open to the public, can be purchased HERE (use promo code VCHOF).
 
A native of Chicago, Smith enrolled at George Washington High School, where she averaged a triple-double as a junior (16 points, 12 rebounds, 10 blocked shots). Nearly every college in the country was interested in signing Smith, who had home visits from 18 coaches. Iowa's C. Vivian Stringer stood out.
 
"Coach Stringer got to me and I fell in love with her," Smith said. "I saw a basketball game on TV when (Iowa) went to the Final Four (in 1993). I visited campus and felt the vibe. I was young at the time, I needed another mother figure, because I was so close to my mom, and coach Stringer fit that for me."
 
Smith ranks third in Iowa history in career blocked shots, seventh in rebounds, and 10th in points. The Hawkeyes won Big Ten regular season championships in 1995-96 and 1997-98; they won the 1997 Big Ten Tournament.
 
"Those were the best years of my life," Smith said.
 
During the 1997-98 season, Smith averaged 19.2 points, 8.3 rebounds, and 1.9 blocked shots per game and was named the Big Ten Conference Most Valuable Player. She was the 12th pick in the 1998 WNBA Draft by the Sacramento Monarchs. In 15 seasons with Sacramento, Charlotte, Phoenix, Indiana, and San Antonio, she averaged 10.9 points and 5.0 rebounds in 463 games. Smith won two WNBA championships with the Phoenix Mercury and was an All-Star while playing for the Charlotte Sting in 2006.
 
Not bad considering when Smith began playing basketball as a pre-teen, she called her style awkward.
 
"I couldn't play at first, but I stuck with it," she said.
 
All these years later, Smith is still making a career out of basketball. After the WNBA, she began a mobile sports and fitness program for children. Smith sold that business when she joined Western Michigan as an assistant women's basketball coach in 2014. She begins her second season as assistant coach at Northwestern.
 
"The weird part is going back to Iowa being part of a different team," Smith said.
 
She has done that twice: in 2017 with Western Michigan (a 79-56 win by Iowa) and in 2019 with Northwestern (a 74-50 win by Iowa).
 
"The fans (in Carver-Hawkeye Arena) are still so amazing," Smith said. "When I played, the fans were so loyal and they continue to be loyal to this day."
 
Smith was part of a 1993 recruiting class that included Nadine Domond, Tiffany Gooden, Angela Hamblin, Timicha Kirby, Shannon Perry, and Malikah Willis. Domond (Rutgers), Perry (UCLA), Smith (Northwestern), and Willis (Texas Tech) are assistant basketball coaches.
 
When Perry was married in Los Angeles earlier this year, five other members of that recruiting class were in attendance.
 
"We call each other sisters through basketball," Smith said. "There were a lot of great memories in college and those turned into long-lasting friendships."
 
Smith said her induction into the National Iowa Varsity Club Hall of Fame will be bittersweet because her mother, Stephanie, passed away a year and a half ago.
 
"I wish she could be here to see it," Smith said. "It will be an emotional day for me because she was always so proud of me and wanted me to do my best in everything. She was at all my high school games and traveled a lot to Iowa to see me play. Every chance she got, she watched me in the WNBA. She was a big supporter."
 
Smith stays in touch with Stringer and Angie Lee, who was Iowa's head coach from 1995-2000. The Hawkeyes made the NCAA Tournament in Smith's final three seasons, going 4-3 overall, and advancing to a regional semifinal in 1996.
 
Those were good times for Smith. There will be time to reminisce on her Hawkeye career when she returns to Iowa City on Aug. 30-31.  
 
"It will send chills down my spine," Smith said. "I can't wait."