Hawkeye Fan Shop — A Black & Gold Store | Hawk Talk Monthly – June | 24 Hawkeyes to Watch 2019-20
By JAMES ALLAN
hawkeyesports.com
IOWA CITY, Iowa — Michael Sleep-Dalton isn't an ordinary collegiate punter.
 
The 26-year-old owns a house in his native Australia, one he purchased after spending three-plus years as an industrial electrician before deciding to go all-in on American football.  His United States journey has led him from Australia to California to Arizona to the University of Iowa.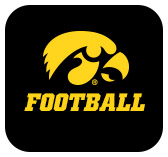 "It's where I could see myself reach my goals of going to the next level," said Sleep-Dalton. "It's what this place can do, that was my main motivator."
 
Sleep-Dalton played Australian Rules football from the day he was old enough to walk.  When he reached a certain point, he had to make a decision to make — continue with the sport or venture into the real world.
 
"I decided to pursue my career," he said. "It was rewarding. It gave me the ability to buy my first house. I met quite a few people and learned a trade. I was out in the real world, so I know what it takes.
 
"But I don't want to work 9-to-5 again, so I thought I would come (to the United States) and pursue a goal."
 
That dream started with a trip to Pro-Kick Australia where instructors reveled at his potential. He had to go the junior college route when high school credits didn't transfer, and he landed at City College of San Francisco, where he was tabbed as the No. 1 junior college punter in the nation.
 
"That transition was difficult," he said. "I was a guy that went from living by myself in my own house to a one bedroom apartment with four other teammates, sleeping on a pull-out futon.
 
"It wasn't what I thought it would be like and I questioned what I was doing a couple of times. I got homesick, but my family helped me get through it."
 
After settling into the Bay Area, Sleep-Dalton earned first-team all-conference honors after averaging 41.7 yards on 45 punts. He parlayed that into a scholarship at Arizona State in 2016.
 
"I ended up making good friends in San Francisco and once the season and the recruiting process started, I could see some worth in it and what I wanted to do," he said.
 
Sleep-Dalton redshirted during his first season with the Sun Devils, and he battled injury in year two. He punted through it — to the point of kicking with his non-dominant left foot — for the first half of the year. He averaged 39.9 on 62 punts in 2017 before finishing with a 43.8-yard average on 59 attempts last season.
 
"I wasn't healthy at all during the (2017) season," he said. "I had a good offseason going into 2018 and had a good season.  I was happy with how I was kicking the ball. I wanted to build on that and work on it."
 
That's when the University of Iowa entered the equation.  Sleep-Dalton wanted to position himself for the next level and the Hawkeye coaching staff and the Iowa weather enticed him.
 
"Having such an elite coaching staff be here for 20-plus years (was attractive) and (strength and conditioning) coach (Chris) Doyle has done an amazing job," he said. "I wanted to play in conditions that will challenge me mentally and physically."
 
Sleep-Dalton and his fiancé packed up drove from Tempe to Iowa City with his cat and dog in tow.  After dropping his belongings in Iowa City, they continued to Miami before returning to campus for summer workouts.
 
Sleep-Dalton will turn 27 in September, but he says the age differential is a non-factor because everyone within the Iowa program has the same goals and ambitions.
 
"All the guys are so mature, I get along with everyone on the team," he said. "I have only been here three months and Keith Duncan is one of my best friends. We have gelled together, our specialist room is close, and the whole team is close in general."
 
Sleep-Dalton has enjoyed every minute of his real world-to-collegiate football journey.
 
"It put me in Iowa City, which I am grateful for," he said.
 
The Hawkeyes open the 2019 season Aug. 31, hosting Miami (Ohio). For ticket information for all seven home games, visit hawkeyesports.com/footballgameday.