Hawkeye Fan Shop — A Black & Gold Store | 24 Hawkeyes to Watch 2019-20 | Hawk Talk Monthly – June
IOWA CITY, Iowa – – The Hawkeye Express, owned by the Iowa Northern Railway Company, will continue the unique tradition of delivering football fans by Pullman railcar to Kinnick Stadium. In operation since 2004, the train service runs from the west edge of Coralville to Kinnick Stadium.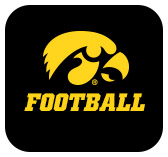 Service begins three hours prior to kickoff. Postgame service begins at the start of the fourth quarter and continues for 90 minutes following the completion of the game.
 
The boarding stop along Highway 6 features free parking in lots near the Black and Gold Shop and Coral Ridge Mall. Round trip tickets are $15 for adults. Children age 12-and-under ride free. Tickets may be purchased in advance at the UI Athletics Ticket Office in Carver-Hawkeye Arena, or on game day at the Hawkeye Express depot (cash only).
 
The Express delivers 1,200 fans in six cars to Kinnick Stadium in about eight minutes, with the train traveling up to 35 mph. Please note for fans with restricted mobility, the Hawkeye Express isn't wheelchair accessible. Fans with restricted mobility are encouraged to use reserved parking spaces near Kinnick Stadium.
 
New for the 2019 season, Iowa has partnered with Waze to provide live gameday traffic updates to and from Kinnick Stadium.  Fans can download Waze for free at waze.com/get or from the App Store and Google Play
to see real-time traffic, find optimal routes and avoid game-related road closures. Game day messaging will be available via hawkeyesports.com/FootballGameday, and on Twitter (@TheIowaHawkeyes).
 
To enhance the parking experience, fans can now purchase day of game parking in advance for designated lots with a credit card on hawkeyesports.com. Parking scanners will be used for all private and public lots. Season parking passes are available for $100, while single game parking is $20 in advance and $25 on game day. The pre-game price includes a deadline of noon on Friday prior to game day.
 
Day of game parking in public lots may be available, depending on pre-sales. This information will be available via hawkeyesports.com/FootballGameday and Twitter (@TheIowaHawkeyes) following the Friday deadline. Credit cards, in addition to cash, will be accepted for payment on day of game.
 
Grass parking at Finkbine Golf Course and the Lower Finkbine Lot (soccer field) will be available only on day-of-game, if conditions warrant.
 
With the purchase of a single game ticket, fans will be able to pre-purchase parking for any one of four lots, including Lots 3, 65, Myrtle, and Ramp 4. There is a limit of one parking pass per account. The passes will be available on mobile devices, but not available to print at home.
 
The general parking pass will no longer exist, as fans can select one of four lots when purchasing parking passes for either the entire season or single games.
 
Contributor RV parking will continue to be located in Lots 40, 75S, 65S and 43N. RV parking within Lot 43N is broken into three different zones: North, East, and West Campus Transportation Center (WCTC). Public RV season parking passes are available for $500, while single game is $80 in advance and on game day. Public RV parking is available at the Finkbine Golf Course Lot, Lower Finkbine Lot, and the Softball Lot.
 
Limited ADA parking will be available in Lot 43N on a first-come, first-served basis at a cost of $25. Fans are no longer allowed to use a prepaid football parking pass as a form of payment. To access ADA parking within Lot 43N, vehicles must enter the lot off of Hawkins Drive. Access to the ADA parking will not be allowed from the Melrose Avenue entrance.
 
Bus and/or limo parking is available on Hawkins Drive, along the northbound lanes. Passes are available for $100 and is limited to the first 15 buses and/or limos. There are no gameday sales for this area.  Prepaid passes are required for parking along Hawkins Drive. To purchase a prepaid parking pass, email doak-walker@uiowa.edu at the UI Athletics Ticket Office by noon (CT) on Wednesday of game week.
 
Questions concerning the purchase of 2019 football tickets, including general public, UI faculty/staff and UI student season tickets, should be directed to the UI Athletics Ticket Office. The office is open weekdays from 9 a.m. to 4 p.m. The office telephone number is 1-800-IA-HAWKS.  Information is also available at hawkeyesports.com/FootballGameday.