Hawkeye Fan Shop — A Black & Gold Store | 24 Hawkeyes to Watch 2019-20 | Hawk Talk Monthly – June | Game Recap
By DARREN MILLER
hawkeyesports.com
IOWA CITY, Iowa — When the University of Iowa offense returned for the second half of Saturday's season opener against Miami (Ohio), head coach Kirk Ferentz had two objectives.
 
Sustain drives and finish drives.
 
The Hawkeyes led, 10-7, at the break and both scoring drives covered 79 yards. But the two non-scoring first half drives went 39 yards and minus-6 yards.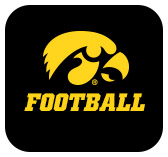 That improved during an impressive second half when Iowa ran the ball 23 times for 123 yards and completed 11 of 14 passes for 140 yards. It resulted in points scored — 28 to be exact — in what developed into a 38-14 Hawkeye victory in front of a sellout crowd of 69,250 in Kinnick Stadium.
 
"We did a couple things in the running game because they were down in there pretty good, which you would expect," Ferentz said. "We threw the ball down the field more in the second half and that helped us, too, because it loosened things up a little bit and we did a little better that way."   
 
After the Hawkeye defense forced its second three-and-out of the game, the offense put together a 7-play, 82-yard touchdown drive that included runs of 16, 10, and nine yards, and pass completions to tight end Shaun Beyer for 18 yards before a 9-yard scoring toss to Oliver Martin.
 
A five-play series by Miami was then answered by Iowa's three-play, 56-yard touchdown drive highlighted by a 45-yard completion to Nico Ragaini.
 
The Hawkeyes took a 24-7 lead into the fourth quarter and kept their feet on the gas pedal. Leading 24-14, they ground out a 13-play series, matching a game high, with one difference: the one in the first half netted three points, this time Toren Young capped a 75-yard drive with a 2-yard touchdown run.
 
It was on this series that Hawkeye fans were introduced to true freshman running back Tyler Goodson, who had four rushes and a pass reception among the 13 snaps.
 
Iowa then cashed in on its best starting field position of the game. An interception by Michael Ojemudia led to a fourth and final touchdown drive of the second half. The 6-play, 23-yarder was capped by a 6-yard screen pass to Ihmir Smith-Marsette.
 
"The staff made good adjustments at halftime because (Miami was) doing things that made it tough," Ferentz said. "A lot of guys we hadn't seen on film and they did things we hadn't seen them do on film."
 
Ferentz described Iowa's play over the first 30 minutes as sporadic at times with a few misfires.
 
"But we came back in the second half and played well," he said. "In a first game, I think you anticipate those kinds of issues. You have a lot of new players playing."
 
It marks the sixth consecutive season opening victory for the No. 19/20 Hawkeyes. It is also the most points Iowa has scored in a first game since knocking off Miami (Ohio), 45-21, in 2016.