Hawkeye Fan Shop — A Black & Gold Store | 24 Hawkeyes to Watch 2019-20 | Hawk Talk Monthly – June
By JAMES ALLAN 
hawkeyesports.com
IOWA CITY, Iowa — Daviyon Nixon held back tears when he went through his first Hawk Walk leading into the University of Iowa football team's Aug. 31 season-opener against Miami (Ohio).
 
There were butterflies in his stomach when he swarmed onto the Kinnick Stadium turf and he had to settle himself down before he took the field for his first game experience as a Hawkeye.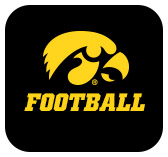 When Iowa wrapped up its 38-14 victory and Nixon returned to the locker room with his Hawkeye teammates, he couldn't control his emotions any longer.
 
"After the game, I looked at Amani Jones and I was like bro, 'Are you going to cry with me?'" said Nixon, a sophomore defensive end from Kenosha, Wisconsin. "He was like, 'Yeah, I'll cry with you because I know you've been through a lot and it has been a long time.'  I sat there and cried a little bit.
 
"The coaches came up and were asking if I was OK.  Amani was like, 'Don't worry, these are tears of joy.'
 
Nixon's first game as a Hawkeye came nearly two years after his final collegiate game — a 36-19 victory over Northwest Mississippi Community College in December of his freshman season at Iowa Western Community College.
 
Nixon initially planned to join the Hawkeyes out of high school, but he was a non-qualifier, sending him to the junior college route.  After earning second-team all-conference honors with the Reivers, Nixon came to Iowa City, but he sat out the 2018 season to get his academics in order.
 
"(The time away) makes you appreciate it more," said Nixon. "During the Hawk Walk, when we were walking into the stadium, I see my dad and he's crying. I am trying not to cry in front of the whole fan base.  I was smiling, shaking hands, and waving.
 
"After the game, I did cry because it overwhelmed me that I made it to this day and now I know that I have to keep going and never stop fighting."
 
Last season, Nixon relied on friends, family, and his Hawkeye teammates to get through the season when he was away from team activities for a couple of months. He said his roommates — Jones, Kaevon Merriweather, and Alaric Jackson — helped get him through tough times.
 
"They pretty much saved me," said Nixon. "They were talking to me on a daily basis and making sure I had everything I needed and (made sure) I was happy. As long as I was happy, they were good."
 
Nixon's Hawkeye debut included one tackle in the season-opening victory over the Redhawks.  Iowa's defense limited Miami (Ohio) to 245 yards, which he says was a good starting point for the defensive line.
 
"For the position group as a whole, we could have done better than we did," said Nixon. "We did get after the quarterback and affect some passes, but overall we could have been better.  I feel I could have done a little bit better in terms of stopping the run, but we did get the win, so that was exciting."
 
The 19th-ranked Hawkeyes return to action Saturday, hosting Rutgers in their Big Ten Conference opener.  The game will kick off at 11:01 a.m. (CT) and be televised on FS1.  Tickets are available through the Iowa Athletics Ticket Office at hawkeyesports.com/tickets.