Hawkeye Fan Shop — A Black & Gold Store | 24 Hawkeyes to Watch 2019-20
By MAGGIE WESLEY
hawkeyesports.com
IOWA CITY, Iowa – Some teams are lucky to get one standout wide receiver. Kelton Copeland, the University of Iowa's third-year wide receivers coach, has the opportunity to train multiple. During last week's game against Miami (Ohio), 10 Hawkeyes had a least one reception with five coming from the wide receiver position. Three caught touchdowns and that number brings a smile to Copeland's face.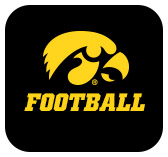 "Last week we had some guys show up on the charts," Copeland said. "We had some explosive plays, catches, and touches in the run game. Oliver (Martin) got his first touchdown, which was good to see. Brandon (Smith) had the first touchdown of the year for our offense. Nico (Ragaini) had a big play and Tyrone (Tracy) had some touches. When it's all said and done, it's about us going out there and contributing to Iowa winning football games."
In 2018, Iowa's wide receivers put up 10 touchdowns, five coming from Nick Easley, who has since entered the NFL. With just one game under its belt, the group has already scored three touchdowns.
"My expectations are always high," Copeland said. "I tell the guys if their expectations do not exceed my expectations then we're never going to be as good as we need to be. My expectations really do not matter. What matters is how hard we work every day, how they set the standard for themselves, and how they hold their teammates accountable."
Losing a player like Easley, who completed his time with Iowa with 1,024 receiving yards, naturally causes a shift in the receivers' room. Fortunately for Iowa, this season comes with a lot of promising replacements, including three players who arrived on campus with Copeland.
"It has been a lot of fun and a lot of work," said Copeland. "Guys like Ihmir (Smith-Marsette), Brandon (Smith), and Max (Cooper)… we all came in together that first year in 2017. They were freshman and I was their first-year coach."
Looking toward Saturday's game, the Hawkeyes a face Rutgers defense that allowed 121 yards passing in its season-opening win over Massachusetts.
"We need to execute our game plan and be detailed in our preparation, which we are doing right now," Copeland said. "We just finished our third practice of the week, so the heavy lifting is over. Right now, the mental part of our week starts up. It's not about what they (Rutgers) do or what they have done, but it's about how well we prepare and execute."
Saturday's game will be Iowa's Big Ten Conference opener and it will kick off at 11:01 a.m. (CT). Tickets are available at hawkeyesports.com/tickets.