Hawkeye Fan Shop — A Black & Gold Store | 24 Hawkeyes to Watch 2019-20 | Hawk Talk Monthly — September | Hawkeyes in the NFL
By DARREN MILLER
hawkeyesports.com
IOWA CITY, Iowa – "It can be demoralizing to have a team run all over you. That is what Iowa wants to do." — Brian Custer, FS1
 
It started innocently enough, with University of Iowa junior Mekhi Sargent running up the middle for three yards on the first play of the game.
 
There were three more yards, then six, then two. By the end of the first quarter, the Hawkeyes had 74 rushing yards on 11 attempts.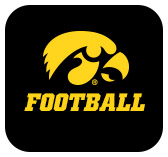 They were just warming up.
 
By the end of Iowa's season opening 38-14 victory over Miami (Ohio) on Aug. 31, the Hawkeyes had 213 yards on the ground on 41 carries. That's an average pounding of 5.2 yards per crack…and it took its toll on the RedHawks.
 
"The later the game goes, you start to feel us wearing on defenses," said Iowa junior Toren Young, who gained 48 yards on nine carries. "The offensive line did a great job the whole game. They got a great push, so we were able to be efficient on a lot of our runs because of how the o-line was playing."
 
Freshman Tyler Linderbaum made his first start at center and it didn't take long for him to realize something big could happen on any offensive snap.
 
"We have that mentality that we keep attacking throughout the game and eventually we will try to wear them down and get more yards as the game goes," Linderbaum said. "I think we did that.
 
"As a line, we have a mentality that our block could be the block that springs the play, so all of us are trying to finish blocks, stay on our guy, and do our assignment, knowing we have such great backs in the backfield."
 
Against Miami (Ohio), Iowa compiled the most rushing yards in a game since running over Nebraska to the tune of 266 on Nov. 23, 2018. During an Outback Bowl victory over Mississippi State, Iowa ran 20 times for minus-15 yards.
 
"A physical running game not only tires the defense and wears them down, but it also opens the passing game for us, which is good," Sargent said. "We need to be a dual threat offense and we got off to a good start."
 
Sargent led all runners with 91 yards on 14 carries; Sargent and Young scored second-half rushing touchdowns. During the final 30 minutes, the Hawkeyes ran 23 times for 123 yards and two touchdowns.
 
"Offensively, we starting getting things going in the second half," Young said. "It comes down to little details."
 
Details like pound, pound, pass.
 
Senior quarterback Nate Stanley completed 21 passes to 10 receivers for 252 yards. He was 11 of 14 for 140 yards in the second half. Sargent led Iowa with four receptions for 65 yards, Young caught one pass for seven yards.
 
"We want to do that to help open the passing game," Young said. "They complement each other; if they are going to stack boxes and play eight-man boxes, we want to be able to pound them and have success running the ball and then go back and throw a couple passes. It's a big part of our game to pound runs in there."
 
Iowa opens Big Ten Conference play Saturday against Rutgers with an 11:05 a.m. (CT) kick. Tickets are available HERE.