Hawkeye Fan Shop — A Black & Gold Store | 24 Hawkeyes to Watch 2019-20 | Hawk Talk Monthly — September | Hawkeyes in the NFL
By DARREN MILLER
hawkeyesports.com
IOWA CITY, Iowa – Nearly 50 years ago, Tom Hayes received a Letterman's ring from the University of Iowa, where he lettered in football from 1968-70.
 
He hasn't taken it off since.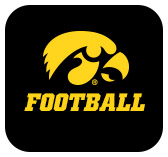 Hayes will be honorary captain Saturday, when the Hawkeyes open the Big Ten season against Rutgers in Kinnick Stadium. Kickoff is set for 11:01 a.m. (CT).
 
For Hayes, the stadium is the same, the home tunnel is not. When he played for Ray Nagel, the team entered and exited the field from the northeast corner of the field. The power of that experience remains with Hayes, a native of Atlantic, Iowa.
 
"I was from small-town Iowa and every time I ran out of that tunnel and saw my parents sitting in the stands, it was a special thing for me," he said. "Iowa is a special place with special people."
 
Hayes coached at nine colleges and in the NFL for the Redskins and Saints. Most recently, he was defensive coordinator for Bill Snyder at Kansas State from 2011-17. In his final game as a coach, the Wildcats defeated UCLA in the Cactus Bowl, 35-17.
 
Similarly, Iowa defeated Illinois, 22-16, in Hayes's final college game as a player on Nov. 21, 1970. After the game, when emotions set in, he knew it wasn't time to let go of the game.
 
"When I walked out of the locker room after the game in the north end zone and we looked down the field, it was a sad day because you know it is over," Hayes said. "I missed it and that's why I got back in the game."
 
For the past 16 months, Hayes has enjoyed retirement living near two daughters and six grandchildren in Estero on the west coast of Florida. He returned to Iowa City once during fall camp to watch a couple practices, and is back this weekend as honorary captain along with members of the Hawkeyes' 1969 football team.
 
"I appreciate and I am honored by it. It's a big deal to me," Hayes said of being named honorary captain. "As long as I have been in this game, both college and the NFL, those relationships aren't easily formed, but I have one here and I have always had one here. (Head coach) Kirk (Ferentz) has made it a hospitable place to come."
 
Hayes spoke to the team Friday, reminding them how difficult season-openers can be. He said what you learned in the first game must now slide into game two.
 
"Everybody starts slow because you're coming out of camp," Hayes said. "The clock doesn't wait, the fans don't wait. The demand is on you. You need to meet the challenge."
 
The Hawkeyes passed their first challenge with a 38-14 win over Miami (Ohio) on Aug. 31. They turn their attention to Rutgers in the earliest conference game ever played by Iowa.
 
Hayes will accompany the Iowa captains to midfield for Saturday's pregame coin toss. He will also be with the Hawkeyes in the locker room before and after the game.