24 Hawkeyes to Watch 2019-20 | Hawk Talk Monthly — September | Hawkeye Fan Shop — A Black & Gold Store | Wide Receivers Continue to Produce | Photo Gallery | Epenesa Fuels B1G Shutout | Hawkeyes in the NFL | Kirk Ferentz Transcript PDF | Box Score (PDF) | Postgame Notes (PDF)
By DARREN MILLER
hawkeyesports.com
IOWA CITY, Iowa — The University of Iowa football team takes a 2-0 record into its first of four trophy games of the season Saturday against Iowa State in Ames, Iowa.
 
In this week's Sunday Conversation, Iowa head coach Kirk Ferentz looks back on a 30-0 victory over Rutgers on Sept. 7 and looks ahead to the Iowa Corn Cy-Hawk Series showdown against Iowa State.
 
Takeaways 3, Turnovers 0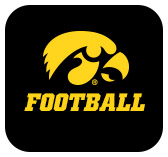 The Hawkeyes had interceptions from Djimon Colbert and Michael Ojemudia and Noah Shannon recovered a fumble against Rutgers and did not turn the ball over.
 
"We have done a good job of getting takeaways and protecting the football pretty well," Ferentz said.
 
Veterans Playing Like Veterans, Youngster Responding Well
"Probably the best couple things I have seen is our older guys — we hope they are going to play as good of football as they possibly can. Two games into it, it's safe to say most of our veteran players are playing at a pretty high level.
 
"Equally as exciting is seeing a lot of young players who haven't played getting out there and responding well to the circumstances we end up being in. That's encouraging. We have a lot of room for growth, but I'm happy being 2-0 at this point."
 
7 Points in 2:42
It took the Hawkeyes less than three minutes to grab a 7-0 lead against Rutgers. Iowa led, 20-0, at halftime.
 
"Every team wants to start fast; that was a fast start, moving the ball out a little bit then hitting the big play for the touchdown," Ferentz said. "Any time you can do that is a great way to start the game. Then our kickoff team did a great job covering on the next kick."
 
Iowa's first touchdown was a 58-yard pass from Nate Stanley to Ihmir Smith-Marsette.
 
Geno is back, Kaevon is doubtful.
"Kaevon Merriweather couldn't go against Rutgers and my guess is he is not going to be able to go this week, either," Ferentz said. "Jack Koerner stepped in and did a great job. Geno (Stone) got nicked up a little bit at the end of the game, but he is fine. He worked out Sunday and everything is good to go. For the most part, we're in pretty good shape that way."
 
1st Road Test is at Iowa State
"(Iowa State gives) you looks that are similar to what we had last week with Rutgers, so hopefully it was good preparation. Iowa State has done a great job, and one of the secrets behind their success is the way they have been playing defense the last two years. We have a lot of respect for their offensive football team, they have done well moving the football, and they have played as good of defense as anybody in their conference the past two years.
 
"We know we have a tough assignment coming up, and maybe that preparation of an odd (3-4 defensive) front will help us, but we didn't exactly have a scoring explosion last year against Iowa State. It will be a challenge for us to find a way to move the football against a very good defensive team."
 
Last season, the Hawkeyes won, 13-3, in Kinnick Stadium.