Hawkeye Fan Shop — A Black & Gold Store | I-Club Events Page | Fight For Iowa | Ferentz Transcript (PDF)
IOWA CITY, Iowa — University of Iowa head football coach Kirk Ferentz held his weekly news conference Tuesday in the Stew and LeNore Hansen Football Performance Center. Here are a few highlights as well as the complete transcript:
Beware of Breaks
Iowa has won some and lost some after bye weeks in the past. Ferentz said the game after a week off has a similar feel to a season opener.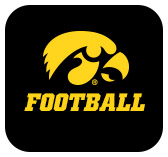 "It's a little bit like a first game when you take a break, the danger of breaks is, OK, what's it going to be like when we come off the break?" Ferentz said. "The break is great, but now we're coming off the break and time to get our focus on our sharpness."
 
The Hawkeyes defeated Minnesota, 48-31, after their bye a year ago, but fell in overtime at Northwestern, 17-10, the week after a bye in 2017. The last time Iowa had two byes in the same season, the Hawkeyes won twice after the break: 45-29 over Indiana and 48-7 over Northwestern in 2014.
 
"All those decisions you make during a bye week, it's like bowl prep; did you make the right decision and you find out when you start playing again," Ferentz said. "It gets back to everybody involved taking responsibility and making sure they are doing what they are supposed to do to give ourselves a chance to be successful."
 
Another Week to Heal
Ferentz said that although several players are closer to returning to the practice and playing field, the week off from a game didn't produce any significant positive news about injuries.
 
The Hawkeyes should have the services of junior offensive lineman Cole Banwart on Saturday, which comes at a good time. Sophomore Kyler Schott was injured Sept. 22 and is expected to miss a couple weeks.
 
"Last week it would have been tough for a couple guys to make it if we played (Sept. 21)," Ferentz said. "They are back practicing now. The other guys are moving along and getting better, but we're really not making any significant progress or significant news on the injury front."
 
Just Do It
Through three games, Iowa has benefitted from four running backs, who all bring something different to the field.
 
The foursome of Mekhi Sargent, Toren Young, Tyler Goodson, and Ivory Kelly-Martin have combined for 453 yards and two touchdowns on the ground (an average of 151 yards per game).
 
Ferentz said none of the four seems to worry about who gets the bulk of the 89 rushing attempts.
 
"The trick is to figure out how to get them in-and-out of the game," Ferentz said. "Right now offensively, and it's true defensively, too — nobody is counting plays. They are just playing. All we are asking them to do is go in there and do what they can do, and we're pleased with what we're seeing so far."
 
ISM Needs a Chance
During the 2018 season, Ihmir Smith-Marsette was the Rodgers-Dwight Return Specialist of the Year and a first-team All-Big Ten specialist after leading the Big Ten and ranking second nationally with a 29.5 yard average on kickoff returns. 
 
This season, Smith-Marstette has been slow to get going in the return game.  He has 54 yards on three returns for an 18.0 yard average.
 
"All he needs is opportunity," said Ferentz. "It will come but he's a much better football player than he was last year even though he did make some great returns. I think we're in a better zone with him right now."
Carson to Kinnick
Carson King, who has become a national sensation by turning his famous beer sign during the background of ESPN's College Game Day" into a $1 million-plus donation to the University of Iowa Stead Family Children's Hospital, will be in attendance during Saturday's game in Kinnick Stadium.
 
"It's a neat story," said Ferentz. "It's generous in nature, a selfless act, and a good illustration of the good things about playing in heated rivalries. Everybody has their sides and their team they support, but this is a good example of teams coming together and people coming together and doing something for a good cause.
 
"It's purely organic, just like the wave, an organic gesture by an individual that has grown into something much more than a simple gesture. I want to salute him. We'll look forward to having him in Kinnick on Saturday."
Iowa returns to action Saturday, hosting Middle Tennessee State at 11 a.m. (CT) at Kinnick Stadium. Tickets are available at hawkeyesports.com/tickets.
Iowa football hosts Minnesota in the battle for Floyd of Rosedale on Saturday, Nov. 16.  Fans are encouraged to wear black for the Blackout game, and it is the annual military appreciation celebration. Active duty military and veterans are eligible for a military ticket discount. Click HERE for tickets and pre-paid parking and additional game information.