Hawkeye Fan Shop — A Black & Gold Store | 24 Hawkeyes to Watch 2019-20 | Photo Gallery | Hawkeyes in the NFL | Hawk Talk Monthly — September
By MAGGIE WESLEY
hawkeyesports.com
IOWA CITY, Iowa – Iowa finished the 2018-2019 season with 1,929 total rushing yards ranking them 10th in the Big Ten. With the same running backs group returning along with a new addition, running backs coach, Derrick Foster knew exactly what areas he wanted to tweak and improve in year-two.
"Going into year-two it's always good to go back and re-evaluate how you taught things the first year," Foster said. "I think I improved on slowing down my teaching and not rushing things, being more of that teacher on the field and in the classroom. Those are some things I can notice now, and the guys are picking up on schematically and conceptionally."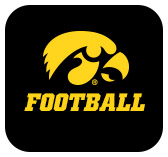 The Hawkeyes' offense does not just encompass one great running back, but four. Freshman Tyler Goodson joins juniors Mekhi Sargent, Ivory Kelly-Martin, and Toren Young in the backfield. Going into Week Five undefeated, the group has totaled over 500 yards rushing. These individuals have shown they do not just provide quantity, but quality to the run game.
"It speaks volumes in the running backs' room. We're able to trust those guys and that's not the case at a lot of places that I've been a part of or that you see across the country," Foster said. "It's very rare that you have the opportunity to work with four young men that you can trust and put in the game in any particular situation and know that you'll be fine. I think it's a testament to the work they've put in on their behalf and showing up daily."
Goodson comes to Iowa from Georgia. He averaged 6.9 yards per carry and scored 25 rushing touchdowns as a senior at North Gwinnett in Suwanee, Georgia. As a top recruit, Foster had the opportunity to recruit him personally.
"Here's a young man that during recruiting and on his official visit he had a good idea of where he wanted to go," Foster said. "He understands where he's trying to go in life period. The relationship was always there and once he got here and around our players that sealed the deal because he knew he could fit in to this family environment, and I think that's what he was looking for throughout his recruitment.
"Going forward, I see this kid excelling. As long as he continues to put in the work, and he has a strong work ethic that you can really appreciate that has carried over from high school up until now and has strong leadership skills, I see him progressing fairly well within our system."
The transition into joining this group's dynamic has been seamless for the freshman. With 105 yards rushing on 22 attempted carries, Goodson is finally finding his niche within the group.
 "I am very pleased with this young man (Goodson). He came in and adapted very well. He's picked up on things fairly fast and I think it shows on the football field. He's a dynamic player," Foster said. "Like the others, when I'm coaching this young man he's fun because he listens, and he responds very well. For the most part, he fits in very well with the room. Between him, Ivory (Kelly-Martin), Toren (Young), and Mekhi (Sargent), they gel very well together. As the youngest guy in the room, a lot of those guys look at him as a younger brother figure and take him under their wing and help make corrections when he's wrong."
A group that has matured over the past couple years together looks to make their mark in the Big Ten this year. With Foster's help, the team expects plays from a diverse portfolio and detail-oriented group.
 "You need to pay attention to detail. It goes back to fundamental football. You need to be brilliant at the basic football fundamental techniques. Throughout our bye week up until now, nothing changes because we're still coaching the smaller detail things, the little things that matter that do not always show up sometimes until something major happens. We're fine tuning the details and we had the opportunity to go back and revisit some things and dissect."
The Hawkeyes host Middle Tennessee State on Sept. 28 at 11:01 a.m. (CT). The game will be broadcast on ESPN2.
 Iowa football hosts Minnesota in the battle for Floyd of Rosedale on Saturday, Nov. 16.  Fans are encouraged to wear black for the Blackout game, and it is the annual military appreciation celebration. Active duty military and veterans are eligible for a military ticket discount. Click HERE for tickets and pre-paid parking and additional game information.