Hawkeye Fan Shop — A Black & Gold Store | Hawk Talk Monthly — September | 24 Hawkeyes to Watch 2019-20 | Hawkeyes in the NFL
By DARREN MILLER
hawkeyesports.com
IOWA CITY, Iowa – There are two dates that stick with Miguel Merrick, who played safety for the University of Iowa football team from 2002-06.
 
The first is Dec. 12, 2001. He was traveling from his home in Union City, New Jersey, on an official visit to Iowa City, Iowa. On a flight from Newark to Chicago, he didn't say a word to the passenger next to him. The leg from Chicago to Cedar Rapids was different.
 
An elderly woman seated next to him, who lived in Iowa, started a conversation that lasted the entire flight.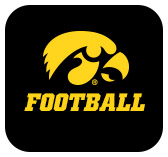 "She sold me and recruited me before I had a chance to interact with the coaching staff and support staff," Merrick said. "She was an Iowan, not a Hawkeye fan. We didn't talk about football, it was about how great the people were and how everybody cared for and took care of each other."
 
Merrick never left the state. After a playing career that saw Iowa win 11 games in 2002, 10 in 2003, 10 in 2004, seven in 2005, and six in 2006, Merrick accepted an invitation from former teammate Ed Hinkel to look into a position as a medical sales representative in the Des Moines area. He resides in Grimes (his wife is originally from Portland, Oregon) and coaches football at Johnston High School.
 
"I was a city kid and never thought I would still be in Iowa," Merrick said. "I have lived here longer than I have anywhere else. It's because it is a great place to live, you can have a great life, and there are great people.
 
"Thank you, coach Ferentz for taking a shot on a kid from a little city who had big dreams."
 
Merrick was team captain in 2006 and Ferentz called the duo of Merrick and Marcus Paschal "one of the better safety combinations we ever had."
 
"Miguel was all about the team," Ferentz said. "Very selfless; a tremendous, competitive player."
 
The other date Merrick remembers well is Sept. 25, 2004.
 
"I wanted to forget," Merrick said.
 
Iowa was coming off a 44-7 loss at Arizona State and next on the schedule was a road trip to No. 18 Michigan. Starting safety Sean Considine left the game with a foot injury, opening the door for Merrick.
 
"I wasn't ready," Merrick said. "My number got called and I was messing up. I was trash. Not only did I let myself down, I let my team down."
 
Iowa lost the game, 30-17.
 
In the postgame locker room, Merrick vowed to never put himself in a position where he couldn't perform to his expectations.  The Hawkeyes won their final eight games and the redshirt sophomore blocked a punt in the Capital One Bowl that Considine turned into a touchdown.
 
Merrick quickly received a "you have to stay humble reminder." On the next play from scrimmage, LSU running back Alley Broussard scored on a 74-yard run with 38 seconds left in the first half. The Hawkeyes eventually won the game, 30-25, with late game excitement of their own.
 
"I will never forget that sequence," Merrick said. "After the game, I was more happy than (quarterback) Drew Tate and (wide receiver) Warren Holloway after we scored a (56-yard game-winning) touchdown (with no time remaining)."
 
While at Iowa, Merrick was fortunate to play with other outstanding defensive backs, including Considine, Paschal, Bob Sanders, and Derek Pagel.
 
"I was able to pick those guys' brains and learn as much as I could to help me become a better player," Merrick said.
 
In turn, Merrick did his part in conveying his knowledge to younger defensive backs in the program. When he was a fifth-year senior in 2006, Merrick was joined every Thursday for film study by a walk-on who was buried down the depth chart with no chance to see the field. Teammates laughed at the understudy, but he outlasted players at film sessions who were actually seeing game action. Finally, Merrick asked the rookie why he invested so much time at that stage of his career.
 
"He said 'I want to know everything, so when I get my opportunity, when I get my moment, I'm ready for it,'" Merrick said.
 
It was then that Merrick knew that somehow, some time, this walk-on would not only contribute, but become a starter.
 
A year later, Brett Greenwood was on top of the depth chart.
 
"When (Greenwood) received his opportunity, he soared and every year he got better." Merrick said. "When you get your chance to shine, make sure you're ready."
 
Merrick will serve as honorary captain Saturday when No. 14 Iowa hosts Middle Tennessee State at Kinnick Stadium (11:01 a.m., ESPN2).
 
Iowa football hosts Minnesota in the battle for Floyd of Rosedale on Saturday, Nov. 16.  Fans are encouraged to wear black for the Blackout game, and it is the annual military appreciation celebration. Active duty military and veterans are eligible for a military ticket discount. Click HERE for tickets and pre-paid parking and additional game information.