Hawkeye Fan Shop — A Black & Gold Store | 24 Hawkeyes to Watch 2019-20 | Hawk Talk Monthly — October | Hawkeyes in the NFL | Game Recap
By DARREN MILLER
hawkeyesports.com
ANN ARBOR, Mich. — Connoisseurs of stingy defense had to enjoy Saturday's Big Ten clash between No. 14 Iowa (4-1, 1-1) and No. 18/19 Michigan (4-1, 2-1). And they had to love what Hawkeye junior defensive lineman Chauncey Golston brought to the field.   
 
Golston, a native of Detroit, returned to the state of Michigan, intent on joining his defensive line mates in wreaking havoc on the Wolverines. For the final 53-plus minutes, Golston was a significant cog in an Iowa defense that held Michigan scoreless. But an opening 6:27 stretch left Golston smarting, well after the game ended with the final score tilted in Michigan's favor, 10-3.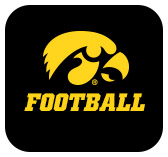 "We lost, so that's it," Golston said. "We didn't start fast enough. Individual performances don't matter if you lose."
 
Golston shared team-high tackle honors with senior linebacker Kristian Welch. Both had five solo stops and three assists. Golston's total included two tackles for loss and one sack. He was responsible for two of Iowa's three quarterback hurries.
 
"It was a good defensive battle by both teams," Iowa head coach Kirk Ferentz said. "Defenses controlled the game."
 
The Hawkeyes entered their second conference game of the season ranked third in the nation in scoring defense (8.5 points per game), fifth in total defense (251 yards allowed per game), and 10th in rushing defense (77 yards allowed per game). They did little to hurt those numbers at Michigan: Iowa allowed 10 points, 267 yards, and 120 rushing yards.
 
"As a defensive line, we take pride in stopping teams from moving the ball and we tried to do the best we could,"Golston said. "We played together and we didn't back down. We didn't care who they were, we came with an edge we needed, but we have to start faster."
 
The series that particularly frustrated Golston was the third time the Wolverines had the ball in the first quarter. Leading 3-0 at the time, Michigan went 70 yards on six plays and scored the game's only touchdown. On the first play of the drive, Michigan quarterback Shea Patterson completed a 51-yard pass to Nico Collins.
 
"We can't give up the touchdown," Golston said. "If there is no touchdown, we're in overtime right now."
 
After the long completion, Michigan was held to gains of four yards, an incomplete pass, eight yards, five yards, and a two-yard touchdown run.
 
That series came after one of Iowa's best defensive efforts of the season. Because of a lost fumble by the Hawkeyes, Michigan had first-and-10 from Iowa's 18. The Hawkeyes limited Michigan to a 28-yard field goal.
 
"Our defense came out and put out the fire," Ferentz said. "They did that a couple times. We put ourselves in tough circumstances and our defense responded well and kept us in the game."
 
Michigan gained 101 yards over the first 15 minutes, 156 yards over the final 45 minutes.
 
"We were very well prepared, we just can't give up big explosive plays," Golston said. "Explosive plays win games and we gave up one."
 
The 10 points allowed by Iowa are the fewest allowed in a loss since falling to Iowa State, 9-6, on Sept. 8, 2012. Iowa came into the game 61-1 under Ferentz when holding opponents to 10 points or less.
 
Iowa football hosts Minnesota in the battle for Floyd of Rosedale on Saturday, Nov. 16.  Fans are encouraged to wear black for the Blackout game, and it is the annual military appreciation celebration. Active duty military and veterans are eligible for a military ticket discount. Click HERE for tickets and pre-paid parking and additional game information.