Hawkeye Fan Shop — A Black & Gold Store | Hawk Talk Monthly — October | 24 Hawkeyes to Watch 2019-20 | Fight For Iowa
By JAMES ALLAN
hawkeyesports.com
IOWA CITY, Iowa — When Luka Garza's sophomore season ended in the second round of the NCAA Tournament last March, his focus shifted to what he needed to do to get the University of Iowa men's basketball team back to March Madness.
 
Garza focused on improving his strength and adding weight to his 6-foot, 11-inch frame.  He wanted to improve his jump shot and his confidence shooting it, and he focused on leadership following the departures of Nicholas Baer to graduation and Tyler Cook to the NBA.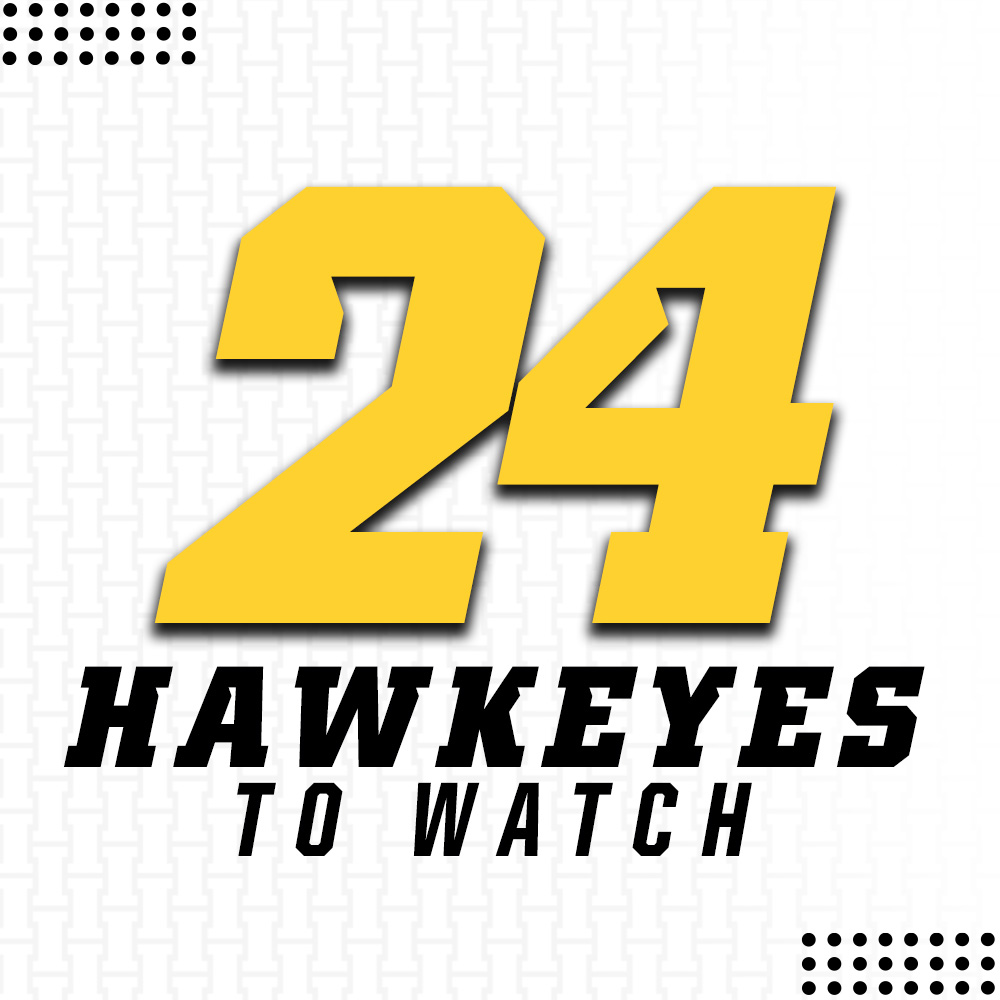 "After last year, I went into the summer determined and focused to work on many parts of my game," said Garza.
 
It started in May in Washington, D.C., when Garza focused almost exclusively on basketball.  There were three workouts a day — a shooting, skill development workout with his father, Frank, in the morning, a strength and conditioning workout mid-day, and more skill work in the evening.
 
"That's what you build your day around, you get up early and do that," said Garza. "Then you eat, relax with the family, and go back.  In the offseason, a lot of guys complain about that stuff; I love it. That is who I am and who I have always been."
 
Garza sprinkled in pick-up games around D.C. against NBA and D League players where he could gauge his progress.
 
"Those are good, high-paced games and are challenging for me because I am going against 7-footers and 6-11 guys," said Garza. "I was able to hold my own."
 
During those summer workouts, Garza says his shooting improved, specifically from 3-point range, and he added more to his offensive repertoire on the block.
 
"One is the Dirk (Nowitzki) fade-away and going over both shoulders," he said. "When I get in a situation where I shoot a jump hook, being able to go to a fade away will help to get a nice look. I also worked a lot on my left hand. A lot of people know I like to use a spin move back to my right hook shot. Now I can fake back into my left hand."
 
These wrinkles make Garza an even bigger weapon for head coach Fran McCaffery in 2019-20.
 
"He's playing at a high confidence level and shooting the ball all over the court," said McCaffery. "He's in phenomenal shape.  He's hitting the 3 and elbow jumper, and he can always score in the post, but it's his consistency of effort that is exactly what you would expect from a guy going into his junior season, who's going to lead our team."
 
Garza was no slouch in his first two seasons as a Hawkeye, scoring 819 points and grabbed 355 rebounds. He is one of three players — along with Aaron White and Jess Settles — to amass more than 800 points and 350 rebounds through his sophomore season.
 
Garza was honorable mention All-Big Ten by the media as a sophomore after averaging 13.1 points and 4.5 rebounds.  He ranked second on the team in scoring and fourth in rebounding.  As a freshman, he was third in scoring (12.1 points), second in rebounding (6.4), and led the team in blocks en route to team Newcomer of the Year honors.
 
"We want him to do what he does," said McCaffery. "We're going to go to him and run stuff for him.  He could be a 20-point scorer because he's going to shoot a lot.  We're going to get him a lot of shots, and I want him to shoot a lot."
 
Garza has essentially lived in the gym from about the time he could walk, with his father teaching him the intricacies of the game. Frank Garza taught Luka the proper form on his jump shot when he was a child then prohibited him from attempting a shot from beyond the 3-point arc until he was in eighth grade.
 
"My jump shot came before my post game," said Garza. "I wasn't coordinated enough to make all the post moves I do now. My freshman year (of high school) was from the outside, then the summer going into my sophomore year I grew three inches and gained 30 pounds.
 
"That's when I started developing a post game and that also included the outside shots. Ever since then I have been working on both to become the best player I can."
 
McCaffery started recruiting Garza when he was a sophomore in high school.  He averaged 19.8 points and 9.8 rebounds as a sophomore. As a senior, Garza averaged 24.6 points and 11.7 rebounds and was named Gatorade D.C. Boys Basketball Player of the Year.  He was a top-100 player by ESPN.
 
During Garza's first season as a Hawkeye, Iowa won 14 games.  Last season, Garza helped the team to 23 victories and to the Round of 32 in the NCAA Tournament.  That taste of playing in March Madness has Garza craving more.
 
"I want to be on a well-connected team that wins," said Garza. "We have a group of guys and that talent in our locker room to win.  That's what everyone has been focused on and we have been pushing each other since last season ended. After the Tennessee game, seeing how close we were and how much further we want to go."
Iowa will hit the court for the first time Nov. 4, hosting Lindsey Wilson College in an exhibition on Mediacom Court at Carver-Hawkeye Arena at 7 p.m. (CT).
 
The Fight For Iowa Mobile Season Pass, season tickets, and mini packages are currently available for purchase on hawkeyesports.com/fightforiowa.