Hawkeye Fan Shop — A Black & Gold Store | Hawk Talk Monthly — October | 24 Hawkeyes to Watch 2019-20 | Fight For Iowa | McCaffery Transcript (PDF)
IOWA CITY, Iowa — University of Iowa head men's basketball coach Fran McCaffery met with the media Wednesday to open Iowa Basketball Media Day inside the Feller Club Room in Carver-Hawkeye Arena. Here are a few highlights as well as the complete transcript:
New Faces Ready to Emerge
McCaffery had an idea the Hawkeyes would lose Tyler Cook to the NBA after the 2018-19 season. He knew senior Nicholas Baer would graduate and thought there would be plenty of depth, despite the transfer of guard Isaiah Moss.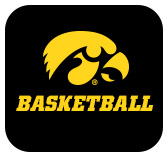 He expected to have the services of senior point guard Jordan Bohannon, who last season averaged 11.6 points and 3.4 assists per game. Bohannon had offseason hip surgery and his return for this season is questionable.  
 
"It's a much different team than I think we thought it would be," McCaffery said. "You have essentially three new players and three players sitting out, so six new bodies. Three of them have been here, they know the offense, they know each other, so it's not that bad."
 
Cup o' Joes
Two Joes are better than one, and Iowa sophomore Joe Wieskamp is joined on the roster by freshman Joe Toussaint.
 
In his first season as a Hawkeye, Wieskamp started all 35 games and averaged 11.1 points and 1.7 3-point field goals per game.
 
"(Wieskamp) has always led by example with his work ethic and productivity," McCaffery said. "He has worked on becoming more versatile off the dribble. He could always do that, but he was kind of a rip-and-drive, drive pull-up, catch-and-shoot guy, and he's always going to be terrific at those three things, but I think you're seeing him now do more off the dribble, not only for himself, but for other people."
 
Toussaint is a 6-foot, 185-pound point guard from Bronx, New York.
 
"He came in with a tremendous attitude, he wants to get better," McCaffery said. "He pushes the ball and has great speed. He gets in the lane, creates opportunities for his teammates, and has great vision on the floor. He is also a guy who can score; he's not what you would call a pure shooter, but he can make 3s. He can make pull-ups, finishes well getting to the rim and he is making really good decisions."
 
3-Point Impact?
With the 3-point line moving back to the international distance of 22 feet, 1 3/4 inches, McCaffery expects percentages to go down across the board in college basketball, not only in terms of makes, but attempts.
 
For the Hawkeyes, McCaffery doesn't think the change will be much of an adjustment at all.
 
"The good thing for us is the players that we have that make 3s can shoot it out there," said McCaffery. "From Wieskamp-to-Bohannon-to-Patrick (McCaffery)-to-Garza-to-Fredrick-to-Nunge-to-Kriener, it doesn't seem to be an issue at all.
 
"The percentages have been good and we have been charting everything from June until now. It will be interesting to see how it plays out. Does it affect how teams defend? Will more teams play zone? You're seeing a lot of pack line defense anyway. Will everybody play pack line defense? We'll have to wait and see how that plays out."
 
B1G Contender? Back to NCAAs?
With the strength of the Big Ten from top to bottom, McCaffery believes the Hawkeyes have the talent to compete in the league in 2019-20.  He says it will come down to staying healthy, winning close games, and building confidence early.
 
"We have the makeup of a team that can contend in this league and on a national level," said McCaffery.
 
Tested Early & Often
The Hawkeyes face the NCAA runner-up in November.  Iowa will also play NCAA Tournament teams Syracuse, Iowa State, and Cincinnati, and either Creighton or San Diego State in Las Vegas.
 
"We don't have a lot of easy games at all, nor should we," said McCaffery. "We should challenge our team, especially when we have veterans. The thought process is on Selection Sunday you will be rewarded for scheduling like this."
 
Iowa will play 14 regular season games against teams ranked in the top 50 of the NCAA's NET Rankings from a season ago.
 
"The mindset that you need to get ready for every game is going to have to be evident right from the beginning with the schedule we have," said McCaffery.
Iowa will hit the court for the first time Nov. 4, hosting Lindsey Wilson College in an exhibition on Mediacom Court at Carver-Hawkeye Arena at 7 p.m. (CT).
 
The Fight For Iowa Mobile Season Pass, season tickets, and mini packages are currently available for purchase on hawkeyesports.com/fightforiowa.