Hawkeye Fan Shop — A Black & Gold Store | Hawk Talk Monthly — October | Fight For Iowa
By MATTHEW WEITZEL
hawkeyesports.com
IOWA CITY, Iowa — When Fran McCaffery was introduced as the University of Iowa head men's basketball coach in 2010, McCaffery brought with him an exciting brand of basketball that has resulted in winning basketball in Iowa City; five 20-win seasons, four NCAA Tournament appearances, three NITs, and Big Ten first-division finishes in five of the last six years.
Now, entering his 10th season with the Hawkeyes, McCaffery believes his 2019-20 team is the most versatile.
"It's an incredibly versatile team," said McCaffery. "That was done by design. The more guys that you have who have dribble, pass, and shoot, the better chance you have to win."
Iowa returns nine lettermen from last year's squad that won 23 games, finished in the upper division of the Big Ten, and advanced to the second round of the NCAA Tournament. Despite losing its leading scorer and rebounder, Tyler Cook (14.5 ppg and 7.6 rpg), Iowa has four experienced players and one freshman 6-foot-9 or bigger: Luka Garza, Ryan Kriener, Jack Nunge, Cordell Pemsl, and Patrick McCaffery.
"I'm pleased with the experience, size, and versatility we have in the front court," McCaffery said. "Rarely do you have three 6-10 or bigger guys who can make 3's. I believe Luka is going to have a spectacular junior year, Ryan came on last year, and Jack's body has developed. Then you also factor in a healthy Cordell, who is crafty and plays a different style than the other three big men."
Garza was one of the best centers in the Big Ten in 2019, averaging 13.1 points and 4.5 rebounds as a sophomore. The native of Washington, D.C., is one of only three Hawkeyes to amass more than 800 points and 350 rebounds through their sophomore season (Aaron White, Jess Settles). 
"Luka's overall effectiveness is incredibly consistent," said McCaffery. "His athleticism and range has improved, which results in having tremendous confidence. He could average close to a double-double this year and that's important for us."
Kriener enters his final year as a Hawkeye after posting single-season bests in nearly every statistical category as a junior.
"Ryan is a versatile guy who is confident that every time he takes the floor he can be effective in the post and on the perimeter," McCaffery said. "He plays physical and can run the floor, which is critical to our success with the way we play."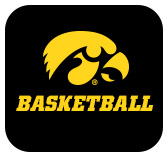 Nunge and Pemsl return after redshirting during the 2018-29 season. Nunge used his sophomore year to build strength and improve his overall game after a rookie season that saw him average 5.7 points and 2.8 rebounds, while also collecting 25 blocks, 34 assists, and 21 steals. Pemsl is back after a season recovering from leg surgery. The native of Dubuque, Iowa, averaged 8.9 points as a freshman and 5.7 points as a sophomore.
"Jack is a big, strong, versatile player in his third year," said McCaffery. "When you see his ability to score inside and get rebounds with his length, but be able to also step out and shoot the 3's as effectively as he does, he is going to be an integral part of our team. Cordell has the experience and knowledge to be an effective player in our league."
Patrick McCaffery joins his brother, Connor, on the Hawkeye roster after finishing his prep career as Iowa City West's all-time leading scorer.
"Patrick had a good summer playing with a great deal of confidence," McCaffery said. "He is shooting the ball well and has improved his strength."
Redshirt junior Riley Till, who stands 6-foot-7, is also in the mix in the front court. Till earned a scholarship after last season and is someone McCaffery can count on when his name is called.
"Riley is a good player," McCaffery said. "He's well-liked and thought of by the coaches and his teammates. Riley gives us incredible depth and versatility because he can play a number of positions."
One major question mark entering the season will be the status of senior point guard Jordan Bohannon. The native of Marion, Iowa, underwent hip surgery in May and his status for 2019-20 is uncertain due to a 5-to-9 month recovery period. Last year, Bohannon averaged 11.6 points, 3.4 assists, 2.4 rebounds, and made a team-best 79 3-pointers. 
With Bohannon's status uncertain, McCaffery signed his first graduate transfer at Iowa, inking Valparaiso transfer Bakari Evelyn. If Bohannon is unable to go, McCaffery can turn to Evelyn, Connor McCaffery, and freshman Joe Toussaint to run the offense.
McCaffery enters his second full season after ranking second on the team in assists (102), while also averaging 4.4 points. Evelyn tied for first on the Crusaders in 3-pointers made (48), ranked second in assists (68), and was fifth in scoring (8.4) last year. Toussaint, a native of Bronx, New York, is the all-time leading scorer at Cardinal Hayes High School.
"Connor was critical to our success last year, particularly at the end of games in knowing what we need," said McCaffery. "He does an excellent job communicating consistently with the players who are on the floor and recognizing situations that need to be exploited. Bakari can play the 1 or 2. He's good on the break, he sees the floor, has good vision, can rebound, and can score. Joe is talented at pushing the ball, getting in the lane, finding people, seeing who's open, is a good defender, and can also score."
On the wing, Iowa returns sophomore Joe Wieskamp and redshirt freshman CJ Fredrick. Wieskamp, who was one of 10 players named to the All-Big Ten Preseason Team, averaged 11.1 points, making 59 3-pointers, and ranking second on the team in rebounding (4.9) last year in his rookie campaign.
"Joe (Wieskamp) is a tremendous player in every aspect of the game," McCaffery said. "He's a hard worker and character guy all the way. CJ put the time in the weight room last year and is stronger. He has the ability to stretch the floor with his jumper, but he also has the ability to put in on the deck, make plays for others, and get to rim."
The Hawkeyes will have one of their most demanding schedules ever assembled under McCaffery in 2019-20. Iowa will face 14 teams that finished in the top 50 of the NCAA's NET Ranking a year ago.
"The harder your nonconference schedule is, the better prepared you are to play 20 brutal Big Ten games," said McCaffery. "We have depth for a reason and we're going to need it. There is no breathing room up and down the schedule. I believe we have the veterans who can handle it."
 
The Fight For Iowa Mobile Season Pass, season tickets, and mini packages are currently available for purchase on hawkeyesports.com/fightforiowa.