Hawkeye Fan Shop — A Black & Gold Store | I-Club Events Page | Fight For Iowa | Ferentz Transcript (PDF)
IOWA CITY, Iowa — University of Iowa head football coach Kirk Ferentz held his weekly news conference Tuesday in the Stew and LeNore Hansen Football Performance Center. Here are a few highlights as well as the complete transcript: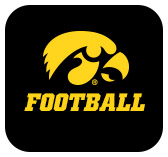 A LOT TO PLAY FOR
The Hawkeyes reached the midway point of the season with a 4-2 record, 1-2 in the Big Ten. That leaves plenty to play for with six games and a second bye remaining.
 
"I told our team this morning that a common denominator with our good teams is that when time goes on, we get better," Ferentz said. "We've been 2-2 before and had a great season.
 
"There's still a lot out there to be playing for, but it's not going to happen if we don't improve. That's where our focus has to be."
 
BOMBS AWAY
Ferentz says the Hawkeyes have plenty to worry about with Purdue's pass-happy offense coming to Kinnick Stadium. The Boilermakers lead the Big Ten in passing offense at 324.5 yards per game. They have thrown 16 touchdowns and seven interceptions.
 
"These guys throw the ball as deep as anybody we have played over the last two years," Ferentz said. "They did it (Oct. 12 during a 40-14 win over Maryland). I'm even more focused on our deep zones than I am our underneath zones.
 
"They run the ball effectively. They have a good scheme. I don't think they overdo it, but they do it enough to be effective running the football. Then they throw the ball well. Coach (Jeff) Brohm was a quarterback, I'm sure that has a lot to do with it. They threaten you all over the place and we have had a hard time defending these guys."
 
Purdue has won the last two meetings, 24-15 in 2017 in Iowa City, and 38-36 last season in West Lafayette, Indiana.
 
KUDOS FOR KINNICK
At one point of Tuesday's news conference, Ferentz explained why he places an importance on the honorary captain program that typically puts a former player in front of the current team.
 
"We get them to try to have an appreciation for guys that have come before them," Ferentz said. "That's what the honorary captain program is all about."
 
The most famous former Hawkeye is Nile Kinnick, who won the Heisman Trophy in 1939.
 
"Talking to (Kinnick's) teammates, sounds like he would have been a governor, senator, he would have done something special," Ferentz said. "He made the ultimate sacrifice and we can all be proud our stadium is named after a great American."
 
As for the Heisman Trophy speech Kinnick made 80 years ago?
 
"This guy has a global view, right?" Ferentz said. "He's not just looking at his cell phone, self-absorbed with whatever."
 
ALL IN WITH BRITT
Freshman running back Tyler Goodson is in the Army and Ferentz says freshman offensive lineman Justin Britt is joining him as a player who will not redshirt in 2019. The Indiana native is listed as a second-string offensive guard on the two-deep for Saturday's Homecoming game against Purdue.
 
"We've made the decision he's playing," said Ferentz. "That's not a discussion anymore. Our attitude is we'll just keep watching him in practice. If we can get him in the game, we'll get him in the game.
"He's improving every week and is pushing in that direction. We have an open mind, and have had an open mind over a month now with him and everybody."
 
THE SKY ISN'T FALLING
In a span of two weeks, the narrative surrounding the Hawkeyes has shifted from undefeated, how far can this team go to one of a season in disarray. 
 
"I understand that mentality, but people that compete can't think like that," said Ferentz. "It's crazy. We would have surrendered every war we have been in if we looked at the world that way. You can't do it.
 
"We have to keep pushing and fighting. We have a chance to play Saturday and get back in the win column. That's where our focus has to be. That's our concern as coaches, make sure our players understand. We can't worry about yesterday, but what's in front of us today, what the opportunities may be.
"The way the season plays out, it's entirely in our hands. We have control of our destiny. We're not going to be undefeated, we've proven that. Everything out there is out there for us. We have to keep playing and the best thing we can worry about is Purdue."
Iowa football hosts Minnesota in the battle for Floyd of Rosedale on Saturday, Nov. 16.  Fans are encouraged to wear black for the Blackout game, and it is the annual military appreciation celebration. Active duty military and veterans are eligible for a military ticket discount. Click HERE for tickets and pre-paid parking and additional game information.