Hawkeye Fan Shop — A Black & Gold Store | Hawk Talk Monthly — October | 24 Hawkeyes to Watch 2019-20 | Hawkeyes in the NFL | Football Freshman: Sam LaPorta | Football Freshman: Jermari Harris | Football Freshman: Justin Britt | Football Freshman: Tyler Goodson | Football Freshman: Jack Campbell
By DARREN MILLER
hawkeyesports.com
IOWA CITY, Iowa — Desmond Hutson caught 47 passes for 729 yards and eight touchdowns as a senior wide receiver at Raytown (Missouri) High School. The Bluejays were 8-2 and advanced to the Class 5A state playoffs, so they performed for some nice-sized crowds.
 
It was nothing compared to the 69,250 fans Hutson played in front of Aug. 31 when the University of Iowa defeated Miami (Ohio), 38-14, in Kinnick Stadium.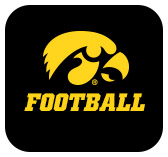 "Being at Kinnick, it was a night game, and it was amazing," Hutson said. "Just being in the center of the field and everyone was screaming. That had my adrenaline rushing and my heart beating fast. That was a good experience."
 
Standing 6-foot, 3-inches and weighing 200 pounds, Hutson draws comparisons to Iowa junior Brandon Smith (6-2, 218), who caught three passes as a freshman, 28 as a sophomore, and after six games this season, shares the team lead in receptions with 24.
 
"Brandon is a super-explosive player," Hutson said. "It helps to be behind him so I can study him and know his foot work as I try to imitate him. To have that big of a body and be that smooth is impressive."
 
Iowa head coach Kirk Ferentz liked Hutson coming out of high school and describes him as a developmental player. Ferentz sees daily growth from the freshman who hails from the Kansas City suburb.
 
"He has made some good plays and has good size with a good attitude," Ferentz said. "It is just a matter of him learning a little more about the position and some of the intricacies that will make him a good player."
 
Hutson feels he is becoming more mature.
 
"Being the best player in your high school, you can just run a route and catch it," Hutson said. "When you get to the next level, there are different aspects that go into being a receiver."
 
Like reading defenses, fending off hands of defensive backs, and running smooth routes. Hutson continues to improve in each area. 
 
With a deep — and getting deeper — wide receiver room, it looks like the Hawkeyes will be able to preserve Hutson's redshirt; he has played in games against Miami (Ohio) and Rutgers. Iowa averages 35.5 pass attempts per game and its top three receivers (and four of the top five) are wideouts.
 
"My goal is to always see the field. I have seen the field a couple games, but I actually want to make an impact on a game," Hutson said. "Not just a couple minutes, I want to work my way up to be an impact player on the team. If not this year, then next year. My No. 1 goal now is making the team better."
 
No. 22/23 Iowa (4-2 overall, 1-2 Big Ten) returns to action Oct. 19 for a Homecoming game against Purdue (2-4, 1-2). Kickoff is set for 11:01 a.m. (CT) in Kinnick Stadium.
 
Iowa football hosts Minnesota in the battle for Floyd of Rosedale on Saturday, Nov. 16.  Fans are encouraged to wear black for the Blackout game, and it is the annual military appreciation celebration. Active duty military and veterans are eligible for a military ticket discount. Click HERE for tickets and pre-paid parking and additional game information.