Hawkeye Fan Shop — A Black & Gold Store | I-Club Events Page | Fight For Iowa | Ferentz Transcript (PDF)
IOWA CITY, Iowa — University of Iowa head football coach Kirk Ferentz held his weekly news conference Tuesday in the Stew and LeNore Hansen Football Performance Center. Here are a few highlights as well as the complete transcript: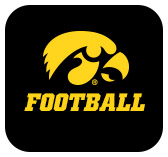 Flattered by the Comparison
Ferentz agreed with a reporter's take that there are parallels between the Iowa and Northwestern football programs.
 
"That's a compliment toward us in that, to me, I look across, I watch them, they don't beat themselves," Ferentz said. "That's the first thing you have to do in football. They rarely mess it up, they play hard, they show up every week. You have to beat them if you're going to beat them. Nothing will be easy about it."
 
Then Ferentz said the comparison doesn't extend to the head coaches and their playing pedigrees.
 
"I would hope people would say (the programs) look like each other," Ferentz said. "(Northwestern head coach) Pat (Fitzgerald) and I don't look like each other. We're not like each other as players. He won awards, that's a whole different ballgame there."
 
As a linebacker at Northwestern from 1993-96, Fitzgerald was twice named Big Ten Defensive Player of the Year.
 
Injury News
Ferentz isn't optimistic that senior linebacker Kristian Welch will play against Northwestern. Welch, who missed Iowa's 26-20 win over Purdue, has not practiced this week, but will be a game captain.
 
Junior wide receiver Brandon Smith was not listed on Monday's depth chart and Ferentz confirmed that he will miss a few weeks. Smith leads the Hawkeyes with 33 receptions and four receiving touchdowns.
 
"His injury looks like it's going to take a couple weeks," Ferentz said. "We got a test (Monday), so I think it's going to take a little while to get him back on the field."
 
Iowa will rely on Deep Wide Receiver Group
On Nate Stanley's way to leading the Big Ten with 1,771 passing yards, he has distributed the ball to 12 different receivers. The absence of Smith will mean more opportunities for freshman Nico Ragaini (30 catches), junior Ihmir Smith-Marsette (27), freshman Tyrone Tracy (15), and sophomore Oliver Martin (five).
 
"First thing we'll do is shift Tyrone Tracy (to Smith's wide receiver position), he'll start the game," Ferentz said. "Ihmir will probably be the next man in at that position. Obviously we'll juggle a little bit. That creates opportunity on the other side, other positions.
"We have a good group of receivers, better than we did two years ago, even a year ago. Part of football is everybody absorbing part of that loss. It provides more opportunity for the other players."
 
A.J.'s Volume
Last season, A.J. Epenesa was a reserve defensive end, backing up Parker Hesse.  This season, Epenesa is rarely off the field, where he has 16 tackles, three sacks, and eight quarterback hurries.
 
"I normally don't listen to the fan request line, but there was some clamoring to get him out there and play more," joked Ferentz. "I couldn't risk that temptation. I told the guys, 'Let's get him out there for 80 snaps a game.'
 
Now the question posed Tuesday was to whether the team should scale back Epenesa's snap count to keep him fresh.
 
"He's a more mature player than he was," said Ferentz. "We don't have Parker Hesse over there either. That combination of everything, I don't think it's affecting him at all. He's enjoying it and playing well. We'll keep playing him."
 
Changing the Ending
The Hawkeyes are perfect in the red zone, scoring on all 24 of their chances this season, but the team has found the end zone just 63 percent of the time.
 
"It's ironic," said Ferentz. "We are at the top as far as red zone scoring, but the trick now is to change that percentage.
 
"That was a story (against Purdue). We had nine points. Instead of 9-0, it could have been 13. It was 9-7 at one point. But 13-7, throw another touchdown on top of that, 16 or 14, 17-7. Those kind of things make a difference if you're playing with a bigger lead.
"We're happy to get field goals. Keith (Duncan) is doing a great job, but we'd like to change that percentage a little bit. The first thing is you have to get down there. We took the ball 7:30 minutes the first drive, drove it down, and got points. That was good, but it's certainly better if you can get touchdowns."
Iowa football hosts Minnesota in the battle for Floyd of Rosedale on Saturday, Nov. 16.  Fans are encouraged to wear black for the Blackout game, and it is the annual military appreciation celebration. Active duty military and veterans are eligible for a military ticket discount. Click HERE for tickets and pre-paid parking and additional game information.