Hawkeye Fan Shop — A Black & Gold Store | Hawk Talk Monthly — October | 24 Hawkeyes to Watch 2019-20
By DARREN MILLER
hawkeyesports.com
 
IOWA CITY, Iowa — University of Iowa forward Jack Nunge posted double-figure scoring totals seven times during the 2017-18 men's basketball season.
 
Six of those games were played on or before Dec. 10.
 
One reason might have been the mental toll a 33-game grind takes on a college freshman. Another reason might be physical.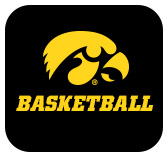 Nunge has addressed both areas.
 
"Having that first year under my belt is huge," Nunge said. "Coming in and not knowing what to expect from the Big Ten, you just know everyone is bigger and stronger than you, and you have to be able to adjust during the year. Then you have to be prepared for the next year to be one of those bigger, stronger guys."
 
Here's where this story takes an interesting twist: It was written after media day in 2018 when Nunge was entering his second year in the Hawkeye program. As a redshirt sophomore in 2019, the physical difference in Nunge is apparent. He is listed at 245 pounds, 10 more than a year ago.
 
"From the beginning, when I decided to (redshirt in 2018-19), I was all in," Nunge said. "I knew I had to make the most of my opportunities; it was different, but ultimately it helped me."
 
On Nov. 8, 2018 — the day of Iowa's the season opener against Missouri-Kansas City — Nunge announced his intention to redshirt. One of seven forwards on Iowa's 2018-19 roster, he said the decision was not injury-related, rather an attempt to get stronger and grow his skill set.
 
Four days earlier, Nunge played 17 minutes and scored eight points with three rebounds during Iowa's 103-46 exhibition victory over Guilford College.
 
Last season, while the Hawkeyes rolled to a 23-12 record and a berth in the NCAA Tournament, Nunge was pounding away at practice against 255-pound Ryan Kriener, 250-pound Tyler Cook, and 245-pound Luka Garza.
 
"I had a chance to focus on my strength and learn how to use it," Nunge said. "Posting up or playing defense against guys like Luka, Ryan, and Tyler every day was tough, but it helped a lot."
 
The 6-foot, 11-inch forward from Newbrugh, Indiana, grew during his sabbatical.  
 
"I learned to appreciate the game more," Nunge said. "You see the game from a different perspective. When you're playing, you don't get to focus on everybody else, you focus on what you do to make the team better. Now you can see how the team functions and how to be most beneficial to the team."
 
Iowa head coach Fran McCaffery said Nunge's year away from the competitive court did everything the Hawkeyes hoped: he practiced hard and accelerated his strength program.
 
"He was always a good post player, but he was always on the thin side," McCaffery said. "He's not on the thin side anymore. He is finishing plays; defensively, he has always had tremendous instincts, so now you have a bigger body to combat talented players in (the Big Ten)."
 
As a freshman, Nunge started 14 of 33 games and ranked second on the team with 25 blocked shots. He averaged 15.7 minutes per game and shot 44 percent from the field with 19 3-point field goals.
 
The Hawkeyes open the season at home Nov. 4 with an exhibition against Lindsey Wilson College. Tip-off from Carver-Hawkeye Arena is set for 7 p.m. (CT). The Fight For Iowa Mobile Season Pass, season tickets, and mini packages are currently available for purchase on hawkeyesports.com/fightforiowa.