Hawkeye Fan Shop — A Black & Gold Store | I-Club Events Page | Photo Gallery | Postgame Notes (PDF) | Box Score (PDF) | Game Recap
By DARREN MILLER
hawkeyesports.com
EVANSTON, Ill. — Iowa's defense continued to be its sensational self during Saturday's 20-0 victory at Northwestern.
 
In its second Big Ten shutout of the season, and fourth in its last 11 conference games, the No. 19/20 Hawkeyes (6-2 overall, 3-2 Big Ten) limited Northwestern to 202 total yards. In the process, Iowa sacked Wildcat quarterback Aidan Smith five times.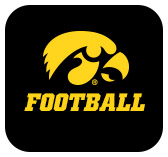 Tackle Daviyon Nixon had two sacks, tackle Cedrick Lattimore had one, and end A.J. Epenesa had one-half. That left 1 ½ sacks for redshirt freshman Joe Evans.
 
Check the game program…who is this No. 13?
 
"We have a lot of young guys playing, it's not like we have a bunch of seniors playing defensively," Iowa head coach Kirk Ferentz said.
 
That includes Evans, a linebacker-turned-defensive end who made big plays against Purdue on Oct. 19, and bigger plays at Northwestern.
 
"That dude is fast," said Chauncey Golston, a junior defensive end who had an interception to go with his 2 ½ tackles for loss. "He has been coachable since he came to defensive end. We told him all week, 'Dude, you can beat him around the edge.' He did his thing and we are all happy for him."
 
Against Purdue, Ferentz said Evans did a nice job getting a push on Boilermaker right tackle Eric Miller. On Saturday, he left Northwestern right tackles Gunnar Vogel and Ethan Wiederkehr talking to themselves. Evans assisted Epenesa on Iowa's first sack in the first quarter, had a quarterback hurry on fourth down in the third quarter, and a solo sack on Northwestern's final offensive play.
 
"For me, my speed is a big part of it," said the 6-foot-2, 240-pound Evans. "I'm not one of the biggest guys out there, so I try to utilize speed as much as I can. Credit to the guys in the defensive line room; they help me, I'm new at defensive line. They help me with moves, working after practice, working before practice. So, credit to them."
 
Ferentz talked to Evans about moving to the defensive line before spring ball after his true freshman season. One of the only real differences, Evans said, is his proximity to the line of scrimmage.
 
"I like it a lot, it's a change of perspective. On the defensive line, you're pretty close to the ball."
 
After the performance at Northwestern, Ferentz thinks Evans has found a home.
 
"He likes playing football and he's a great young guy," Ferentz said. "That would be great if this gives him confidence to carve out a little niche, a little role, for him moving forward."
 
The emergence of Evans is one more weapon for one of the best defenses in the nation. After eight games, the Hawkeyes allow only 10.1 points and 265.9 yards per game.
 
"I will play wherever they want me to play; it has been my dream to be an Iowa Hawkeye," Evans said. "As a kid, I dreamt of being out there, playing with the guys and contributing."
 
It isn't rare for children in Iowa to grow up dreaming of becoming a Hawkeye. But one factor gives Evans' story a unique twist. This future Hawkeye spent grades 5-12 living in Ames.
Iowa football hosts Minnesota in the battle for Floyd of Rosedale on Saturday, Nov. 16.  Fans are encouraged to wear black for the Blackout game, and it is the annual military appreciation celebration. Active duty military and veterans are eligible for a military ticket discount. Click HERE for tickets and pre-paid parking and additional game information.