Hawkeye Fan Shop — A Black & Gold Store | Hawk Talk Monthly — November | 24 Hawkeyes to Watch 2019-20 | Hawkeyes in the NFL | Football Freshman: Dane Belton | Football Freshman: Desmond Hutson | Football Freshman: Sam LaPorta | Football Freshman: Jermari Harris | Football Freshman: Justin Britt | Football Freshman: Tyler Goodson | Football Freshman: Jack Campbell
By DARREN MILLER
hawkeyesports.com
IOWA CITY, Iowa — It shouldn't be a surprise that freshman quarterback Alex Padilla enrolled at the University of Iowa in the spring semester, rather than waiting a half year longer and report to fall camp.
 
There's a lot to learn, Padilla correctly assumed, so he left Cherry Creek (Colorado) High School early to get a jump on understanding his collegiate playbook.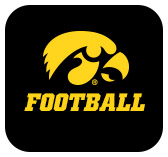 "It was a benefit," Padilla said. "I felt coming early was going to be beneficial to learn in spring ball so I was better prepared in the fall."
 
His arrival in Iowa City made Padilla the lone true freshman in a six-member quarterback room, where senior three-year starter Nate Stanley is unquestionably the leader.
 
"I want to soak up everything I can from (Stanley) and help him any way I can from the sidelines by telling him what I see," Padilla said. "We say it every day in the quarterback room, we want to improve every day."
 
The 6-foot-1, 193-pound Padilla threw for 2,678 yards and 40 touchdowns as a junior in high school, and 1,951 yards and 24 touchdowns as a senior. He holds the Cherry Creek record for passing yards and touchdowns in a season and career.
 
Regardless of the number of quarterbacks on the roster, Iowa head coach Kirk Ferentz said he likes to recruit one a year. The match between Padilla and the Hawkeyes has worked well.
 
"Alex played in a good program in Colorado," Ferentz said. "He has been great to have in our program, a first-class young person who works hard. He is an intelligent guy and is learning quickly."
 
Stanley, who has thrown for a Big Ten-leading 1,950 yards and 10 touchdowns this season, agrees.
 
"He is open to all the information he can get," Stanley said. "He will stay late with us and watch tape. He came in and has been open to everything (quarterbacks) coach (Ken) O'Keefe has given. He has been receptive to all of it and done a great job learning the offense. He is also progressing physically."
 
Stanley went on to praise Padilla's decision-making, saying he gets through progressions quickly.
 
"He has done a good job with the mental aspect of the offense and applying that to his decision-making on the field," Stanley said.
 
Another benefit for Padilla is that even though he is redshirting, he travels with the Hawkeyes on road trips. He saw first-hand the hostile atmospheres at Iowa State, Michigan, and Northwestern.
 
"It helps see the environment and what you're going to be playing in," Padilla said. "It is cool to see what it will be like playing in these places in the future."
 
Padilla loves everything about Iowa City; his highlight is bonding with teammates.
 
"You see a lot of things that are different from Colorado," Padilla said. "It's cool to see guys from different places come together. We're all brothers now."
 
No. 18 Iowa (6-2 overall, 3-2 Big Ten) travels to Camp Randall Stadium to play No. 16 Wisconsin (6-2, 3-2) on Nov. 9 in Madison, Wisconsin. Kickoff is set for 3:05 p.m. (CT).
 
Iowa football hosts Minnesota in the battle for Floyd of Rosedale on Saturday, Nov. 16.  Fans are encouraged to wear black for the Blackout game, and it is the annual military appreciation celebration. Active duty military and veterans are eligible for a military ticket discount. Click HERE for tickets and pre-paid parking and additional game information.