Hawkeye Fan Shop — A Black & Gold Store | Box Score (PDF) | Postgame Notes (PDF) | I-Club Events Page | Photo Gallery | Game Recap | Record-Setting Duncan Adds 3 More Field Goals
By DARREN MILLER
hawkeyesports.com
MADISON, Wis. — Trailing by eight points with 3:23 remaining, the University of Iowa had to strike quickly. In five previous games in Camp Randall Stadium, its opponent, No. 13 Wisconsin, allowed less than six points per game.
 
Iowa already had 16 points, but the 18th-ranked Hawkeyes were 75 yards from the end zone, and on the other side of the line of scrimmage was a defense that leads the nation in passing efficiency defense and yards allowed per passing attempt. Only 12 times in eight games had the Badgers allowed passing plays of 20-or-more yards.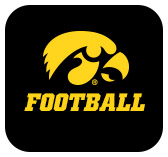 No worries.
 
Iowa senior quarterback Nate Stanley took a shotgun snap at the 20, dropped back four yards, and delivered a bullet to redshirt freshman wide receiver Tyrone Tracy, Jr., that traveled 36 yards in the air. Tracy tucked the ball, and with Badger cornerback Deron Harrell lying face down on the turf, easily won a 48-yard foot race to the end zone, cutting the Hawkeye deficit to 24-22 just 11 seconds later.
 
"I ran a post, Nate threw the ball right on the spot, and I ran away from the defender," Tracy said of the 75-yard touchdown. "It felt good because we needed some spark. I try to hold myself to being electric, so when I go out there and catch the ball, I try to do something with it instead of going down."
 
It was the longest reception of Tracy's career, and it was the longest play of the season for the Hawkeyes. It equaled the longest completion of Stanley's career, the other going to Nick Easley during a 27-22 victory over No. 18 Mississippi State in the 2019 Outback Bowl.
 
It ended up being the most productive game of Tracy's nine-game career. He finished with five receptions for 130 yards — the most receiving yards by a Hawkeye since tight end Jake Duzey had 138 yards at Ohio State in 2013, and the most by a Hawkeye wide receiver since Marvin McNutt had 130 against Michigan State in 2011.
Iowa's not done.@TyroneTracy scores on the explosive play, and @HawkeyeFootball cuts it to 24-22. pic.twitter.com/CGs6c6fZIG

— Big Ten Network (@BigTenNetwork) November 10, 2019
 
At halftime, Iowa trailed 14-6 and Stanley had completed 3 of 6 passes for 27 yards. In the second half, he was 14 of 22 for 181 yards and two touchdowns. Despite the difference in production from one half to the next, Tracy said not much changed for the Hawkeyes.
 
"We came out and executed, focused on the details and fundamentals of football with our route-running," Tracy said. "That way, when we do get the ball passed to us, we're at our spot, the timing is great, and that's what happened in the second half."
 
Through nine games, Tracy leads Iowa with a 19.8-yard average on 22 receptions. Two of his three touchdowns have come in the last two games; he had two catches for 88 yards and a score at Northwestern on Oct. 26.
 
The Hawkeyes (6-3 overall, 3-3 Big Ten) return home — where they are 4-1 this season — on Nov. 16 against undefeated Minnesota (9-0, 6-0). Iowa looks to retain the traveling trophy Floyd of Rosedale for a fifth consecutive season; kickoff is 3 p.m. (CT). 
Iowa football hosts Minnesota in the battle for Floyd of Rosedale on Saturday, Nov. 16.  Fans are encouraged to wear black for the Blackout game, and it is the annual military appreciation celebration. Active duty military and veterans are eligible for a military ticket discount. Click HERE for tickets and pre-paid parking and additional game information.