Hawkeye Fan Shop — A Black & Gold Store | Box Score (PDF) | Postgame Notes (PDF) | I-Club Events Page | Photo Gallery | Game Recap | Record-Setting Duncan Adds 3 More Field Goals | Electric Tracy Strikes Again
By DARREN MILLER
hawkeyesports.com
IOWA CITY, Iowa — After being on the short end of a slugfest Saturday against No. 16 Wisconsin, the 23rd-ranked University of Iowa football team prepares for No. 7 Minnesota on Nov. 16 in Kinnick Stadium.
 
The Hawkeyes enter the game 6-3 overall, 3-3 in the Big Ten; Minnesota is 9-0, 6-0. Iowa's three losses have come to teams currently ranked ninth, 14th, and 15th in the nation.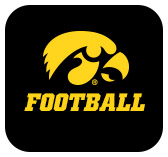 "Minnesota has earned the right to be ranked that high, they have a perfect record," Iowa head coach Kirk Ferentz said Sunday. "It gets down to us playing a little cleaner and better and knowing we have a top-ranked opponent to be the challenge this week."
 
NASCAR Tempo
Iowa scored 16 points in the fourth quarter at Wisconsin, passing for 102 yards, while holding the ball just 4 minutes, 26 seconds.
 
"Wisconsin was running the ball well, so in the second half we decided we needed to go to a tempo mode because we were worried about how many possessions we were going to get," Ferentz said. "It worked to our advantage. Our guys did a great job, protection was a little better when we did that, and (quarterback) Nate (Stanley) did a good job spreading the ball around. (Wide receiver) Tyrone (Tracy) came up with that big play and overall we did a good job of moving the football."
 
Stanley and Tracy connected for a 75-yard touchdown pass making the score 24-22 with 3:12 remaining.
 
Keeping Floyd in his Iowa City Pen
The Hawkeyes have corralled the Floyd of Rosedale traveling trophy for the last four seasons. It's the first time both Iowa and Minnesota have been ranked in the top 25 since 2003 (a 40-22 win by the Hawkeyes).
 
"November football is always important," Ferentz said. "We have played two straight road games, so it will be great to be back in Kinnick. Playing a top 10 team, that's all you can ask for — it is a great opportunity to play a team that is playing very well right now."
 
Looking to Excel in All 3 Phases
 "The thing we have to do right now is put a whole team game together — offense, defense and special teams," Ferentz said. "We need to get them all to mesh at once."
 
Reflecting on a Loss at Wisconsin
"The best thing I can say about (Saturday) is it looked like we were out of the game at one point, but we fought back in there and were a two-point play away from being in a tie game with little time left," Ferentz said.
 
Kyler Schott Returns
Sophomore offensive guard Kyler Schott returned to action at Wisconsin after missing five games because of injury.
 
"I thought he helped stabilize things in the middle and did a good job," Ferentz said. "Hopefully we can solidify that (offensive line) group and play cohesively with more efficiency every week."
Iowa football hosts Minnesota in the battle for Floyd of Rosedale on Saturday, Nov. 16.  Fans are encouraged to wear black for the Blackout game, and it is the annual military appreciation celebration. Active duty military and veterans are eligible for a military ticket discount. Click HERE for tickets and pre-paid parking and additional game information.